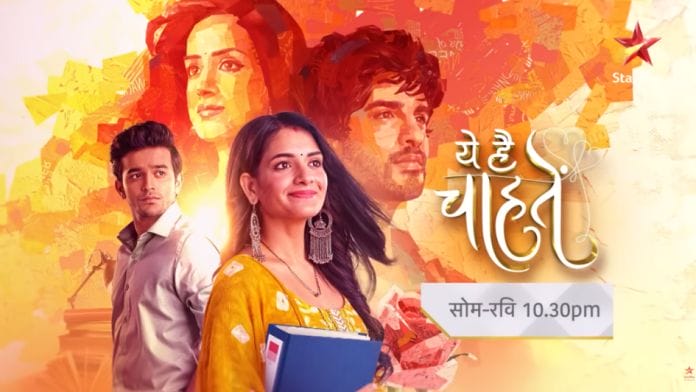 Yeh Hai Chahatein Upcoming Story, Spoilers, Latest Gossip, Future Story, Latest News and Upcoming Twist, on Justshowbiz.net
Episode begins with Kaashvi thinks that she has to see Arjun's tattoo. She pours water on his tshirt deliberately. She pretends like it was an accident and apologizes to him. She tells him to remove his tshirt. Arjun tells her that he is fine. She tells him that he will get cold and removes his tshirt. She gets happy seeing his tattoo ( Title song plays in the background ). She says that Mohit was right. She tells him it must be K for Kaashvi. He tells her that she is wrong. He lies that K for Krishna. She gets annoyed hearing this and leaves from there.
Arjun recalls that how Mohit tattooed Mahima's name on his hand. He realises that he forgot about his love. He tattoo K on his hand. He comes to reality and says that he will tell Kaashvi that K for Kaashvi after finishing his project.
Officer tells Kaashvi that foreign delegates are on the way. Parents comes there with their son who is bleeding. Officer stops the auto and tells them to go in another way. Kaashvi notices the kid. She tells kid's father to use another route to reach the hospital and they will reach it in 15 minutes. He tells her that because of traffic jam he can't go on that route. Kid mother's tells Kaashvi that they have to reach the hospital on time else her kid will die. Officer tells Kaashvi that they can't go against Nitya's order. Kaashvi tells him that she will take responsibility. She orders him that let them go. Nitya comes there and sees the auto.
Dadi tells Arjun to select outfit for Kaashvi for sangeet. Arjun selects an outfit for Kaashvi. Mahima sees this. She tells him that she used thought his choice is good. He tells her that she should ask Mohit's opinion for her outfit. She tells him that he used to love her so his choice in people is good.
He drags her inside and asks her that what game is she playing. He wonders that why Mahima is marrying Mohit when Mohit is not rich enough fulfill her expectations. He asks her that why she is flirting with her. He says that she approached him physically. He warns her to stop all this. He reminde her he is Kaashvi's husband. He says that Mahima is his last and Kaashvi is his present. He informs her that he love Kaashvi and no one can take Kaashvi's place. He asks her stop her cheap tricks.
Mahima asks him that why he did not understand why she is doing all this. She says that she is feeling helpless and she regret for leaving him on her marriage day. She tells him that she understood love is important than money. Arjun asks her to stop it. He tells her that he is glad she eloped with Pradhyumna. He says that Kaashvi is more beautiful than Mahima at heart. He leaves from there.
Nitya scolds Kaashvi. She stops the auto. She tells Kaashvi that the latter deserves punishment.
Episode ends.
Precap – Kaashvi takes the kid in her car to the hospital. Doctor tells parents that kid went into coma.
Click to read
Yeh Hai Chahatein 18th September 2023 Written Update: Kaashvi ruins Mahima's plan