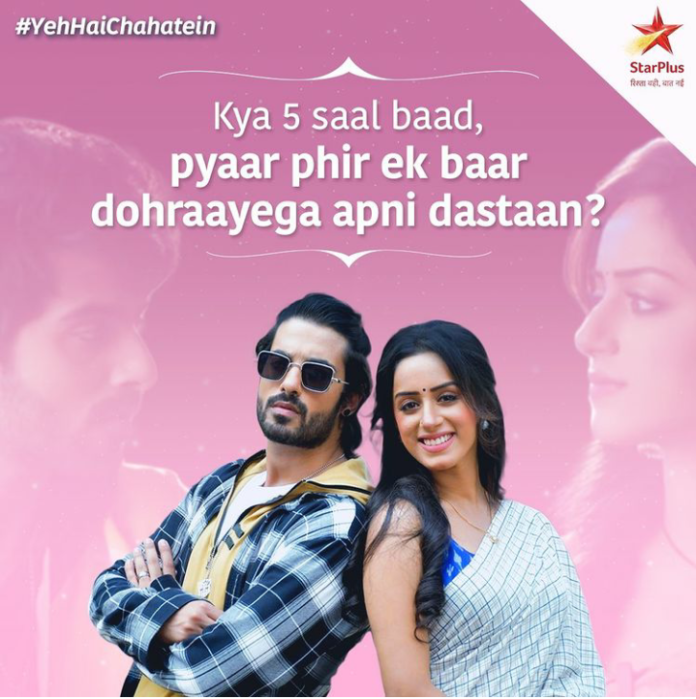 Yeh Hai Chahatein Upcoming Story, Spoilers, Latest Gossip, Future Story, Latest News and Upcoming Twist, on Justhowbiz.net
Episode begins with Private investigator Anil spots Preesha with Pihu in the party. He says that Rudraksh was right. He decides to take their photo to show it to Rudraksh. Meanwhile, Armaan tells Digvijay that Rudraksh confronted him. He adds that because of mask Rudraksh did not see Preesha yet.
Digvijay says that if Rudraksh got to know that Preesha is there then it will be a big problem. He asks him to leave from there. Armaan tells him that he was leaving but Pihu took Preesha for dinner. He goes to Preesha and notices Anil taking Preesha's photos. He wonders that why Anil taking Preesha's photos.
Ruhi tells Saaransh that Preesha forgot them. She adds that now Preesha loves Pihu not them. Saaransh wipes out her tears and he says that it's not like that. He tells her that she has no idea that what all Preesha did for him. He adds that Preesha did so much for them because she loves them so much.
She asks him that why Preesha behaved like that with them. He tells her that there must be some reason. Vanshika spots them and asks them that what are they doing there. Saaransh lies to her that they came to attend his friend's birthday party. Kids leaves from there. She says that kids also unpredictable like Rudraksh.
Mr. Oberoi thanks Rudraksh for attending the party. He says that they can discuss about contract tomorrow. Mr. Oberoi's daughter comes there and requests Rudraksh to sing a song. Vanshika says that they can create a buzz in media. Rudraksh says that he will sing but that's a gift for Mr. Oberoi's daughter.
Armaan beat Anil up and kidnaps him. He asks him that why the latter took Preesha's photos. Anil loses his consciousness. Armaan finds Anil's visiting card and learns that Anil is a private investigator and he works for Rudraksh. He deletes all the photos. He calls his guy John and asks him to reach the hotel.
Preesha goes to wash her hands. Pihu finds Raj and asks him that what is he doing there. He tells her that he is preparing for tomorrow's music test. An old lady is about to fall down but Raj helps her. Pihu sees that and thinks that Raj is not bad person. Armaan orders his guys to take Anil from there.
Rudraksh sings a song. Preesha hears him and she says that this voice sounds familiar. She wonders that who is singing. Armaan says that if Preesha heard Rudraksh then she may get attack. Pihu thinks that she has to stop Preesha from seeing Rudraksh. Preesha sees Rudraksh and gets angry. She recalls that how he treated her and she faints.
Rudraksh moves towards Preesha but Armaan takes Preesha from there. Preesha's duppata falls on Rudraksh. Rudraksh sees Pihu running from there. He says that he felt Preesha's presence but why he is seeing Pihu. He calls Anil but no response from other side.
Episode ends.
Precap – Preesha buys clothes for Armaan in RR fashion designer shop. Kids waits for Preesha outside the shop. Vanshika brings Rudraksh to that shop.
Click to read
Yeh Hai Chahatein 30th June 2022 Written Update: Armaan prevents Preesha from dancing with Rudraksh