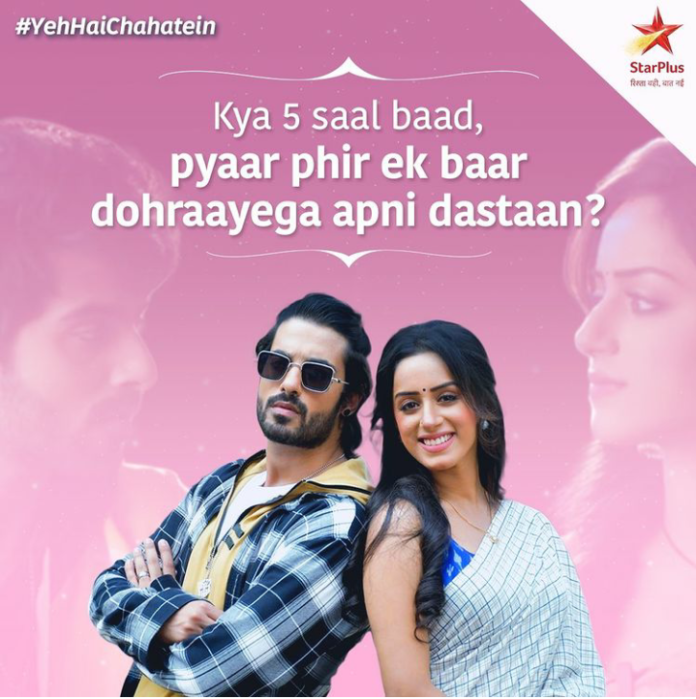 Yeh Hai Chahatein Upcoming Story, Spoilers, Latest Gossi, Future Story, Latest News and Upcoming Twist, on Justhowbiz.net
The episode starts with Armaan bringing Preesha to vehicle. They wonder how did Preesha faint and wonders if she again got attack. Armaan is thankful that he manged to take away Preesha before Rudra could see her. Armaan recalls taking out Preesha from bathroom with staffs help before Rudra sees her. Armaan says Pihu that he would give her medicine and asks her to continue her Felicitation. Armaan leaves with Preesha. Raj thanks Rudra for coming on his request. Rudra says he has to as he's his guardian. He sends Raj with Vidyut.
Preesha wakes up to find herself in hotel room.  Chachi asks what happened when Preesha recalls getting alergy due to food and forgot her medicine. She says that she went to washroom and finds the door locked and suffered attack in panic. She says that someone named Rudra helped her but she fainted later. Everyone gets shocked hearing Rudra's name but Chachi says that it might be some other Rudra. Armaan asks what's she doing and Preesha asks in return what's he doing there.
Armaan asks her to leave to Mumbai as she may get sick anytime. Preesha says she would get sick even in Mumbai worrying about Preesha. She says she needs to do something shopping for Pihu and pleads him to let her stay there for some more day. Armaan agrees but on a condition that he will also stay with her to take care of her. Preesha agrees and thanks him.
Pihu on her way to class bumps with Raj and is about to fall down but Raj holds her. Pihu accuses him for trying to take advantage of her and lashes out at him. Raj tries explaining himself but Pihu doesn't listen to him. Vidyut comes there and mocks Pihu as Ms. Attitude. He threatens her and warns her to learn to respect her senior. He mocks her and introduces himself as Vidyut. He praises himself and asks her to remember that no one go against his words. He forces her to go on her knees and apologize. Pihu complies having no option and everyone chant for Vidyut.
 Vidyut warns her to not repeat it in order to face something worse the next time and is about to move. But suddenly he skids and falls down. Pihu recalls tying his legs with shoelace while she went on her knees. She mocks Vidyut to not try to show her attitude and calls him failure. She says her name to him and leaves taunting him that respect will come only with actions and not seniority. Everyone chants Pihu's name but Vidyut asks them to leave. Raj asks him to let it go but Vidyut plans to to get his revenge.
Rudra is rehearsing in studio and his manager approves the song. Ruhi calls the manager and asks if Rudra had something but she says no. Ruhi comes up with a plan. His manager apologizes Rudra for arranging food review ad shoot right now and Rudra agrees for the shoot. He starts shooting having food and immediately recognises it as his mother's food. Ruhi comes there and reveals that it was her who planned it to get him to eat.
Pihu shares with Preesha about college incident and pleads Armaan to go out to have ice cream. Armaan agrees and they visit ice cream parlour. Pihu also on her way to home with Rudra demands ice cream and Rudra gets reminded of Preesha. He too takes her to the same parlour and Armaan spots him.
Precap : Pihu will find her mother through CCTV footage. Preesha and Rudra will come to Principal's office for Pihu's case.
Click to read
Yeh Hai Chahatein 21st June 2022 Written Update: Armaan rushes to Delhi