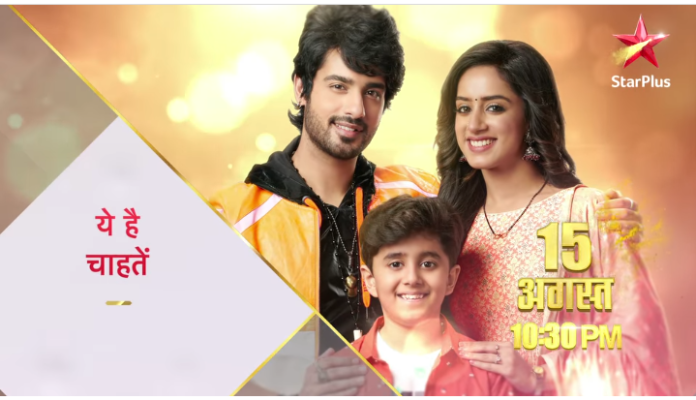 Yeh Hai Chahatein Upcoming Story, Spoilers, Latest Gossip , Future Story, Latest News and Upcoming Twist, on Justhowbiz.net
Episode begins with Rudraksh says even if Preesha brings him back from death also he won't forget what she did with him and he will never trust her again. She says she didn't wanted to impress him and she didn't wanted to prove how caring, loving she is but she wanted prove her husband innocent because she trust him that he didn't murdered Keerti. She says he may not trust her and hate her but for her he is her family and she doesn't hate him. She says she is just fulfilling their family promise but he back out from his promise and thought she can betray him that too because of duplicate proof.
She says she pleaded him to trust her but he trusted that Rahul over her and now all the proof are against him and everyone suspecting him but she didn't even without him saying anything she trusted him because she knows that he can never do something wrong and that's the difference between them. She says her father used to say innocent should not punished no matter what and she also know how it feels when you are accused without your mistakes and she faced that but she won't let him face that pain.
Preesha tells Saaransh to pack his books properly they are getting late. Police inspector tells Khurana's that Preesha was right, it's not Rudraksh who met Keerti lastly but it's a woman because they got earring from Keerti's hand. Balraj gets relieved and says at least no one will blame Rudraksh now. Mishka gets nervous. Ahana says it's quite strange that Woman was with Keerti and asks can she see that earring. Police inspector says they sent all proof and details of Keerti's case to Delhi because from now they will handle the case. Balraj asks why they transferred the case to Delhi.
Harish says he is behind that transfer and here Balraj saved Rudraksh but he can't save him from Delhi Police. He says Rudraksh murdered Keerti so he won't leave him until he gets punishment for the crime he did. Balraj says he doesn't have time for his nonsense and leaves from there with his family. While going back Saaransh asks about Keerti. Preesha somehow changes the topic. Mishka notices Ahana and Sharda sleeping and she throws her another earring out of the window.
Ahana wakes and asks why she opened the window when AC is on and tells her to close it. Mishka thinks it was her earring Police got from Keerti's hand but now she get rid of her another earring so no one will get to know the truth. They reaches the house and Preesha stops them saying she wants to talk something important. She shows the earring to Balraj and says she saw someone throw this from their car.
Mishka gets afraid seeing her earring. She tells them to recall what Police inspector told about the proof and Sharda doesn't wears these kinda earrings so it's Ahana or Mishka's earring. Ahana gets angry how dare she to blame them. Preesha says she is just asking. Ahana tries to instigate Balraj against Preesha. Balraj says Preesha proved Rudraksh's innocence and tells her to answer Preesha's question. Ahana says it's her earring.
Episode ends.
Precap – Preesha gets to know that earring's owner is Mishka. Rudraksh blames Preesha saying she is trying to save Yuvraj not him.