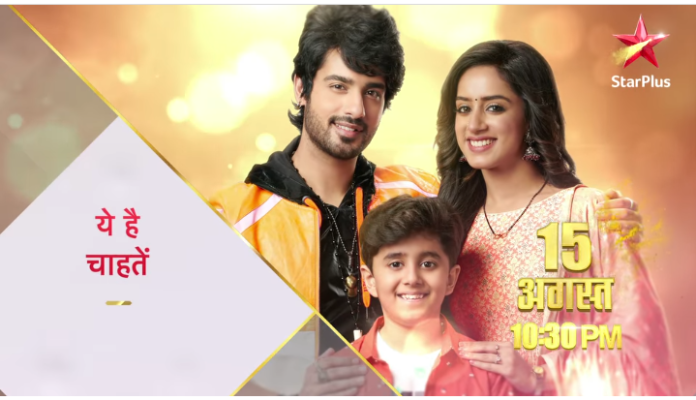 Yeh Hai Chahatein Upcoming Story, Spoilers, Latest Gossip, Future Story, Latest News and Upcoming Twist, on Justhowbiz.net
Episode begins with Ahana says everyone wants to hear from her that it's her earring but the truth is it's not hers and also not Mishka's. She says she feels it's Preesha's earring and she is putting the blame on others and says she can't tolerate her insult anymore and moves from there taking Mishka with her.
Mishka thanks her for saving her but gets slap by Ahana. Ahana says she is lying to her not Preesha and asks how can she kill Keerti and says now she understood that she went to the terrace to search her earring. She asks why she didn't trust her sister and tell the truth to her. Mishka says it's Ahana who is not trusting her sister now and says she didn't inform her because she was tensed but she didn't kill Keerti, she just met her that's it. Khurana's comes there. Preesha says this is why they came here so they can hide the truth from everyone. She says it's Mishka's earring and says she is not lying because she has the proof and shows the picture in which Mishka wearing the same earring.
She says she didn't wanted to blame instead she wanted to save that's what real family does. She asks Mishka to tell the truth now. Mishka apologize to everyone and says she lied to them but she didn't kill Keerti, in fact she met Keerti and she even had argument with her but she left from there after warning her. She tells them to believe her and says when she came back Keerti was alive and while fighting with her she lost her earring that's why she went to the terrace to find that.
Rudraksh says Mishka did everything to save her but didn't said anything to the Police when they accused him for the murder. Mishka swears on Ahana saying she didn't kill Keerti. He asks if she met Keerti after him then why she was not in the CCTV footage. She says she also thought about it, she thinks someone deleted it. He asks who can delete that.
She says actual murderer would have deleted it. He says it's her mistake that she lied to everyone if she said the truth then they would have checked the whole footage and would have catch the murderer. Balraj says he will call the lawyer and says he is disappointed in Ahana and says he trusted her so much but she lied to him. Ahana apologize to him and says she really don't know about this.
Preesha thinks what if Yuvraj again deceiving her and she calls him and asks why he lied to her. He gets confused hearing her. She asks he didn't informed her that Mishka was also in that CCTV footage and says she met Keerti after Yuvraj. He says he really doesn't know about this when he saw him he deleted it, didn't watch full clip. She says she should not have trust him again. Rudraksh takes the mobile from her and tells Yuvraj to talk to her later and disconnects the call.
He says he thought she is doing all this to save him but in real she is saving her boyfriend Yuvraj.She calls him as Yuvraj by mistake which angers Rudraksh. She says Yuvraj didn't kill Keerti because Mishka met her after him. He asks what happened to her and in front of him she is taking his side. Vasusha calls Preesha and tells her to meet Neerja because that recording is important to prove her innocence to Rudraksh. Preesha meets Neerja and tells her to get well soon and she will find another way to prove her innocence. Suddenly Neerja's life support machine starts to beat and the Nurse tells her to wait outside. Rahul who gets to know all this scolds Preesha.
Episode ends.
Precap – Rudraksh calls Yuvraj and asks about Preesha.