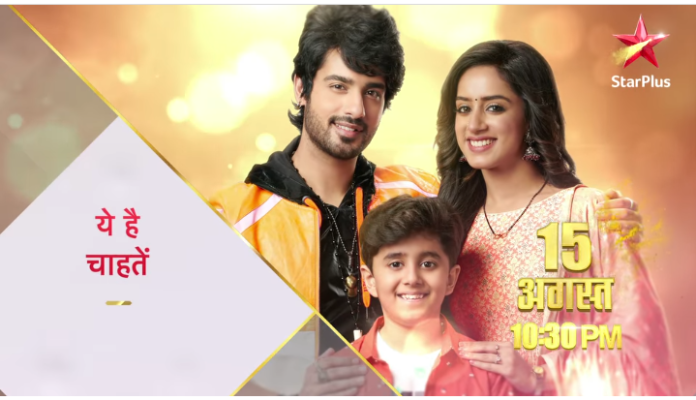 Yeh Hai Chahatein Upcoming Story, Spoilers, Latest Gossip, Future Story, Latest News and Upcoming Twist, on Justhowbiz.net
Episode begins with In hospital, Preesha comes out after meeting Neerja and gets confused seeing Sharda there. When she asked what Sharda doing there, Sharda replied saying she came to get her diabetics tablet and endup checking sugar level too.
Preesha asks what Doctor told her. Sharda says everything is normal, she need not to worry. Preesha says she is going to meet her parents and leaves from there. Sharda too leaves for Khurana house. Ahana apologize to Rudraksh for her behaviour. Mishka too apologize to him saying she stayed silent when Police was harassing him and she feel really guilty for that.
Ahana says they would not have faced any problem if there was no mistake in the CCTV footage. Mishka says she was not in the footage so it's clear that something is wrong with that. Rudraksh says he already proved innocent so let's Police do their job now. Doctor was checking Neerja. Rahul asks what happened to Neerja and gets worried for her.
Doctor says her mind starts to work, there is improvement in her health condition and asks anyone came meet her or anything happened. Rahul says Neerja's friend Preesha came to meet her that time only sound came from life machine.
Doctor says Neerja responding to Preesha and suggests him to call her again if possible then, because his wife wants to talk to Preeta that's the best medicine for her now. Rahul says he will call Preesha. Mishka tells Ahana that there is no use of talking to Rudraksh because he is still angry on them.
Ahana says she is also angry on her, because of her today she lost her respect in front of Balraj and she too saw how he talked with her by taking Preesha's side. She says there is definitely something is fishy in the footage because Mishka was not in that footage. And says if she finds out the footage then she can get clue about the real culprit too then Balraj will appreciate her too.Then she calls the hotel Manager to collect the information.
Rudraksh tells Preesha to not act like a good wife in front of him because he already knows her truth and warns her to not touch his things. She says she is not doing anything to impress him it's just that he changed , his opinion about her changed. Rahul calls Preesha and apologize to her and pleads her to visit hospital saying Neerja needs her help and when she comes he will explain her everything in detail .
Preesha says she will go there for Neerja and leaves for the hospital. Rudraksh gets to known that Preesha is not in the house and wonders where she went without informing him. Preesha reaches the hospital. Rahul tells her that first Neerja's brain reacted seeing her that's why she called her. Doctor says even in coma patients can hear and Neerja responding to Preesha so it's really a good sign for her recovery.
Preesha talks with Neerja. Rudraksh calls Yuvraj and asks about Preesha and says he knows that he is the one who deleted the CCTV footage. Yuvraj acts like Preesha is with him and disconnects the call.
Rudraksh drinks a lot and asks Preesha where she went when he saw her in the house. She replied saying she went to meet Neerja because she responded to her talks and Rahul called her to the hospital. He denies to believe her and mocks her saying she is ready with excuses always.
Episode ends.
Precap – Police searches Khurana house and gets a earring like they got from murder spot. Sharda says they got the wrong proof.