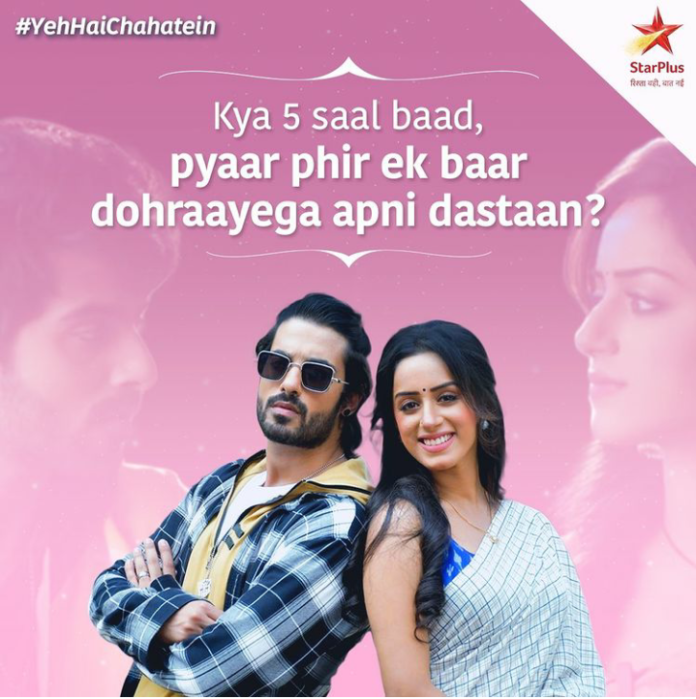 Yeh Hai Chahatein Upcoming Story, Spoilers, Latest Gossip , Future Story, Latest News and Upcoming Twist, on Justhowbiz.net i
Episode begins with Rudraksh sings a song for Rohit. Everyone enjoys it and dances. Rohit praises him and asks him that who is the latter. Rudraksh says that Ruhi invited him and he removes his moustache. Everyone gets excited seeing Rudraksh. Rudraksh tells Rohit that this is the surprise from Ruhi. On the other hand, Bunty enters the shop to give poster printing order. Preesha treats the shop owner's son. Bunty waits for some time and he leaves from there. He says that Rudraksh making him do all this but he is not sure that if Preesha is alive or not.
Rudraksh says that Ruhi is his special friend that's why he came. He tells Rohit that the latter mocked Ruhi still she planned this surprise for him. Ruhi asks Rohit that if he liked her surprise. Rohit thanks her and apologizes to her for mocking her. Other students also apologizes to Ruhi and she forgives everyone. Rudraksh sings another song and everyone dances and enjoys it. Then Rohit cuts the cake. Rudraksh asks them that if they enjoyed it. Everyone screams yes. He says that now he has to return to Delhi and takes Ruhi out. He asks her that did she forgave him. She places a kiss on his cheek and thanks him saying that he is best. He says that now no one will mock her and he is happy for her. Yuvraj sees them and follows them.
Rohit tells his father Mukhiya that Rudraksh is really good and he came to his birthday party. He informs him that Ruhi brought Rudraksh and now Rudraksh returned to Delhi. Mukhiya asks his man to call Rudraksh's home. Mukhiya's man calls Rudraksh's home and he asks about Rudraksh. Saaransh informs him that Rudraksh is in the village and he didn't return yet. Mukhiya's man tells Mukhiya that Rudraksh didn't return to Delhi and he is in their village only. Mukhiya says that last time too they saw Rudraksh with Ruhi and it's confirm that Rudraksh is in their village and they has to find out that what is he doing instead of returning to Delhi.
Rudraksh enters the storeroom with Ruhi. Yuvraj sees that and wonders that why they are entering the storeroom. Rudraksh asks Ruhi to not get angry at him because he loves her. She tells him that she also loves him and hugs him ( Title song plays in the background ).
Yuvraj is about to open the storeroom but Preesha stops him and drags him from there and asks him to leave from there. He tells her that he saw Ruhi entering the storeroom that's why he tried to enter it. Ruhi comes there and goes to the home. Yuvraj says that how much he helped Preesha so it's not fair for her to behave like this with him. She tells him that she will return his 1 lakh rupee in 3 days.
Preesha tells Ruhi that she can't forgive Yuvraj and he can't become her father. Meanwhile, Rudraksh asks that why Preesha is not coming in front of him but he will find her for sure.
Episode ends.
Precap – Rudraksh asks Bunty to check everyone's hand properly. Preesha reaches the ad campaign venue to participate.
Click to read
Yeh Hai Chahatein 6th January 2022 Written Update: Rudraksh attempts to convince Ruhi