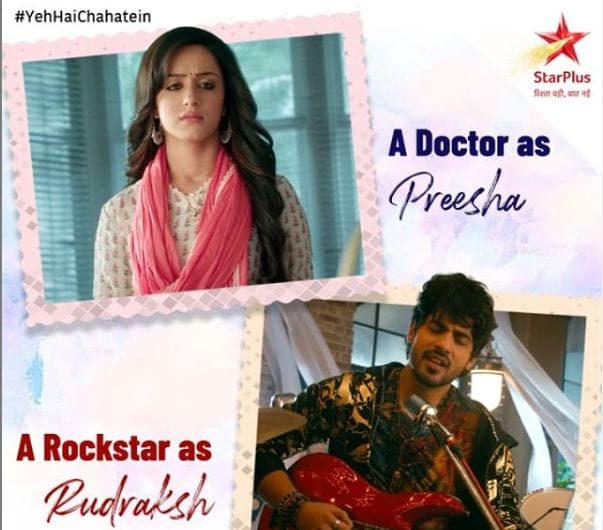 Star Plus newly launched spin-off show " Yeh Hain Chahatein" is going to uphold their game in the upcoming track of the show.
The show is started as sister show of the longest running daily on the same channel "Yeh Hain Mohabbatein".
The show is based on a single mother Preesha's journey who is a gynecologist by profession and her son Saransh. She is a single mother due to which in spite of being eligible she is not getting a suitable match for herself. Whereas, Rudraksh on the other side is a rockstar by profession who has millions of fans but he lacks the basic touch of love in his house as everything here is so mechanical and fake.
The only thing that goes well for Rudraksh in his house is his relationship with his elder brother Rajiv. In the initial episodes of the show, Preesha and Rudraksh meets but both of them are not fond of each other.
However, Saransh is a huge fan of Rudraksh and he wants to become like him in the future. In the latest promo released by the channel, it was clear that the lives of Preesha Rudraksh and Saransh are going to change forever.
In the promo, a car is colliding with a tree and hand come out of the front seat. Preesha is somehow linked to the incident and she takes a tough decision for the well being of Saransh. She confessed in the police station and gives an official statement that she is the reason why Rajiv, elder brother of Rudraksh meets with an accident, she is also responsible for his sudden death. Rudraksh gets angry with this confession and he promises to punish her in his own style for killing his brother.
Well it is clear from the promo that the show is heading towards a revenge marriage track. Of course, there is more to the story from what we can see. Maybe this is a way out of destiny to make Preesha save from Yuvraj and his evil intentions.
However, Saransh is going to enter the house from where he belongs to. Yes, Saransh is a biological son of Rajiv and the elder sister of Preesha. However, the love hate story of Preesha and Yuvraj and the beautiful bond beyond the blood is going to build.
Preesha and Yuvraj may start with a misunderstanding but with time love will surely blossom between them and it will be interesting to see actually who is the reason behind the accident? Or is it a planned murder of Rajiv by someone very close? Are you excited to see this track unfolds in the show?
For more such interesting updates keep watching this space!