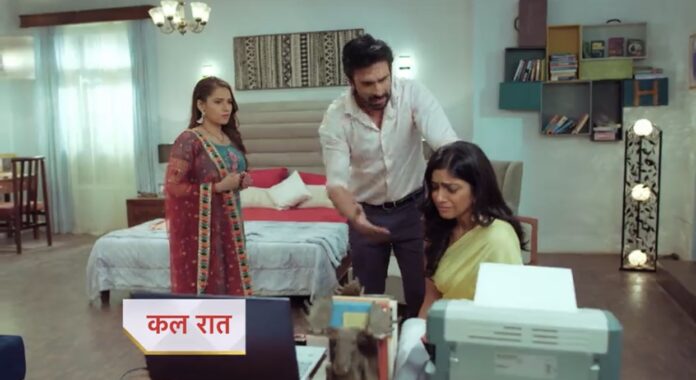 Yeh Jhuki Jhuki Si Nazar Spoilers, Upcoming Story, Latest Gossip , Future Story, Latest News and Upcoming Twist on justshowbiz.net
Star Plus popular daily soap, Yeh Jhuki Jhuki Si Nazar have managed to rise curiosity in the minds of people, with its twist and turns in the storyline.
In the earlier episode, Bhavna joins hands with Kajal in order to teach a lesson to Dia, whereas the latter plans to get Armaan back via using Bhavna. Meanwhile, Dia gets worried for her father and tries to take her friend's help to get the character certificate from her previous job. She determines to help her parents and tells Armaan about it, whereas Bhavna suggest her to apologise to Kajal.
Here, Bhavna somehow convinces Dia to meet Kajal and ask sorry from her in order to make her cancel the complaint. Dia goes to the restaurant to meet Kajal along with Bhavna, where the latter smirks thinking about her plan.
Dia apologises to Kajal and ask her to take the complaint back, but the latter makes Dia bends down in her knees and begs for mercy. Without having any other choice, Dia agrees for Kajal's demand, but the latter again keeps a demand to make Armaan apologise to her.
Ahead, Dia gets mad at Kajal and declares that she won't ever let Armaan meet her. She proclaims that she regrets doing friendship with her and goes away from there, while Bhavna records the video in order to enjoy Dia's helplessness.
Bhavna gets into an argument with Kajal for involving her brother, while the latter tells that she knows the real intentions of her. Dia gets confronted by Madhu as she reaches the house and the latter taunts her. Bhavna also comes there and Madhu scolds her for becoming like Dia.
Later, Dia meets Armaan and Bhavna notify him about the truth in order to save herself. Armaan gets mad at them for meeting Kajal and then determines to sort the matter. He calls Kajal and visits her house along with Dia, whereas the latter gets reach to impress him, but he determines to teach her a lesson. Meanwhile, Bhavna shows the video of Dia to Madhu and both enjoys the drama.
Now in the upcoming episode, Palki will give soup to Brij while he gets an attack. Palki will get shocked seeing her father's condition and becomes worried, whereas she along with Anju tries to take him to the hospital and notify Dia about it. The latter will become stunned hearing about her father, while Palki ask Dia to come there, but suddenly Brij will fall down and they panics seeing his state.
Will Dia be able to help her father?
Will Brij be able to survive?
It would be interesting to see what happens next on the show.
Stay tuned with us for more news, Spoilers and written updates of Yeh Jhuki Jhuki Si Nazar.