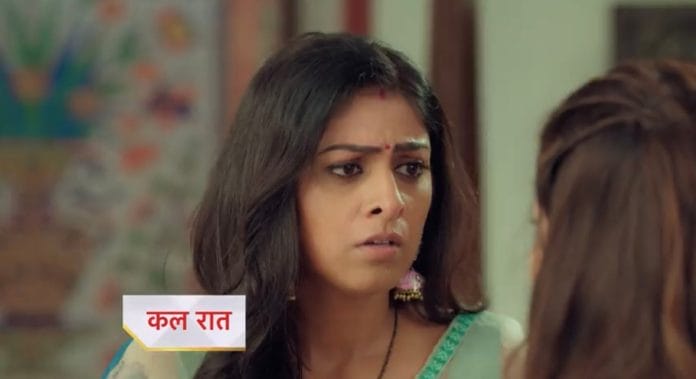 Yeh Jhuki Jhuki Si Nazar Spoilers, Upcoming Story, Latest Gossip , Future Story, Latest News and Upcoming Twist on justshowbiz.net
Star Plus popular serial Yeh Jhuki Jhuki Si Nazar is gearing up for some intense drama and interesting twists in the upcoming story.
In the earlier episode, Armaan hears Anju's conversation with the doctor and gets shocked learning about Brij's cancer. She faces him and takes a promise to hide the truth from Dia and Palki. He agrees to her request and then insists to visit the doctor along with her. Anju gets overwhelmed seeing Armaan's support and shares her worry with him. Whereas, they gets shocked finding that there isn't any cure for Brij's illness.
Here, Pawan spots Armaan along with Anju inside the hospital and notify Bhavna about it. She confronts Dia regarding it, to which the latter gets confused and says that she isn't aware of it. She becomes worried and questions Armaan as he returns back, but he lies to Dia.
Dia ask him to tell the truth and states that she is aware of his visit to the hospital with her mother. He gets shocked and tries to make up some story. At that time Bhavna gets a message from Pawan, who apprises her about Brij's illness.
Ahead, Bhavna hugs Dia and consoles her, while the latter gets worried. Armaan tries to stop Bhavna from telling the truth, but she notify Dia about Brij suffering from terminal illness. Dia gets shattered and looses her calm. She rushes towards her house.
Armaan saves Dia from getting into an accident and becomes concerned for her. She scolds him for hiding the truth, while he tells her about Anju's promise. Whereas, Brij gets concerned for the money and becomes shocked seeing the electricity bill. He advice Palki to save electricity, while she gets confused with his behaviour.
Later, Brij gets scolded by his boss and was about to go to the work, when Anju stops him and ask to eat first. He then enjoys his family moment with Palki and Anju, while Dia and Armaan comes there and gets emotional seeing him. He assures Dia that they will save Brij, whereas Anju also cries but hides the tears from her family.
Now in the upcoming episode, Dia will searche for Brij's blood report and finds it inside Anju's cupboard. She will immediately take the photos of it and then keeps it there. She will get emotional seeing that her father is suffering from blood cancer and then meets Anju and Palki. Her phone will slip from her hand and the pictures gets open. Brij will pick it up and sees the report, while Dia will get shocked.
Will Brij find about his terminal illness?
Will Dia be able to help her family?
It would be interesting to see what happens next on the show.
Stay tuned with us for more news, Spoilers and written updates of Yeh Jhuki Jhuki Si Nazar.