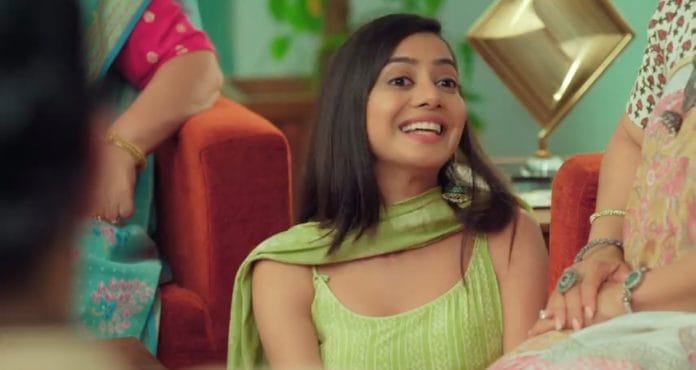 Yeh Jhuki Jhuki Si Nazar Spoilers, Upcoming Story, Latest Gossip , Future Story, Latest News and Upcoming Twist on justshowbiz.net

Star Plus popular daily soap Yeh Jhuki Jhuki Si Nazar is grabbing the attention of the audiences with its high voltage drama. The curiousity to know whether Brij be able to survive or not, is keeping the viewers hooked to their television screens.
In the earlier episode, Dia gets shattered seeing Brij's cancer report and clicks pictures of it, in order to consult a doctor. She determines to save her father, as well as decides to fulfill all his wish lists. Meanwhile, Saloni meets Armaan and reminds him about their childhood stories. She mingles with the family members, while all gets impressed by her.
Here, Sudha taunts Dia after finding her missing from the house but Armaan notify her about Brij's cancer and she gets shocked learning about it. She becomes concerned for Dia and her family, whereas Armaan consoles her and assures that they will try their best to save him.
Dia comes back to her in-laws house upon Brij's instance and gets shocked seeing Armaan and Saloni's closeness. Whereas, the latter introduces herself to Dia and tells that she is Armaan's childhood best friend. She also shows her concern towards Brij and assures that he will be fine.
Ahead, Sudha also shows her condolence towards Dia. Meanwhile, Anju gets worried for Brij and meets the doctor. She finds out about an operation and gets a little hope to save her husband, but gets tensed after hearing the money for treatment. She thinks about taking help from Armaan but then feels ashamed.
Anju meets a guy, who proclaims himself to be Brij's student and notify her about his business of giving loans. She decides to take money from him and thinks about it. She determines to save Brij's life.
Later, Dia shares her sadness with Armaan and he proclaims to help her in curing Brij. She also tells him about Brij's wish list, whereas Saloni impresses the family members with her morning prayers, while Sudha compares her with Dia internally. Whereas, Dia shows her gratitude towards Saloni for thinking about her father.
Now in the upcoming episode, Armaan will complain that his shirt's button isn't getting closed, to which Saloni helps him. But, her bracelet will get stuck in his button and she falls back towards him. At that time a priest will come there and blesses them thinking them to be a couple. Madhu and others will get shocked seeing it. Whereas, Dia will also come there and looks at Armaan, while the latter will stare at Saloni.
Will Anju be able to arrange for the money?
Will Dia be able to help her father?
It would be interesting to see what happens next on the show.
Stay tuned with us for more news, Spoilers and written updates of Yeh Jhuki Jhuki Si Nazar.