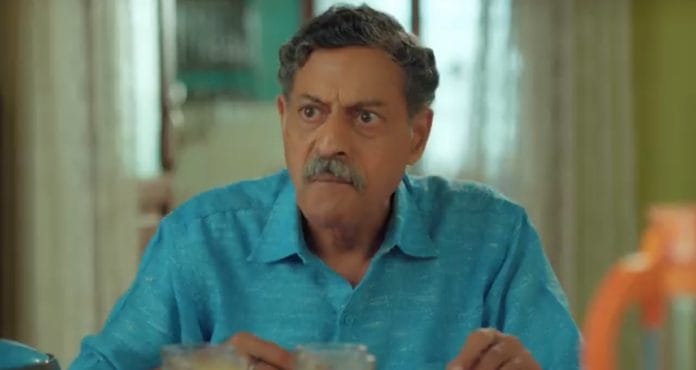 Yeh Jhuki Jhuki Si Nazar Spoilers, Upcoming Story, Latest Gossip , Future Story, Latest News and Upcoming Twist on justshowbiz.net
The peculiar twist in the tale of Star Plus popular daily soap Yeh Jhuki Jhuki Si Nazar is enthralling the audiences. The story is gearing up for some intense drama in Dia and Armaan's life.
In the earlier episode, Armaan finds out about Brij's cancer and takes Anju to the hospital in order to discuss about the case. They becomes devastated learning that Brij's cancer is incurable, whereas Pawan sees them with the doctor and notify Bhavna about the matter. She tells about it to Dia, while the latter gets shocked.
Here, Dia becomes devastated after finding out her father's terminal illness and confronts Armaan about it. She denies to accept the truth and rushes to visit her father. Armaan follows her and tries to console her, while she gets emotional seeing her father happily enjoying with Palki and Anju.
Dia shares her sadness with Armaan while Brij gets suprised seeing them and gets them inside the house. Dia stops Brij from going to his work as she remembers how hard he work and gets mistreated by his boss. She suggests him a new job to tutor kids in their house.
Ahead, everyone supports Dia's suggestion and finally Brij also agrees to do it. Whereas, Dia enjoys her family time and keeps sitting near Brij. At that time Bhavna reminds Armaan to pick Sudha from the station. Dia denies to leave her father and so Armaan goes from there alone.
Sudha gets furious at Armaan as he gets late and stops him from coming. She brings Armaan's childhood friend Saloni with herself and they reaches Rastogis house, where Madhu instigates Sudha against Dia and prohibits everyone from telling about Brij's cancer to Sudha.
Later, Armaan apologises to his mother and gets successful in taking her forgiveness. Whereas, Dia searches for Brij's reports and gets shocked seeing it. She also finds his dream lists and determines to fulfill his wishes. Meanwhile, Armaan meets his friend Saloni and remembers their childhood memories.
Now in the upcoming episode, Dia will hurridly click pictures of Brij's cancer report. She will get devastated after seeing it but still holds her emotions. Meanwhile, Palki will hug Dia and her phone slips from her hand. The photo of Brij's report will get open and the later bends down to pick it up, while Dia will get worried.
Will Dia be able to save her father?
Will Saloni creates new problems in Dia and Armaan's life?
It would be interesting to see what happens next on the show.
Stay tuned with us for more news, Spoilers and written updates of Yeh Jhuki Jhuki Si Nazar.