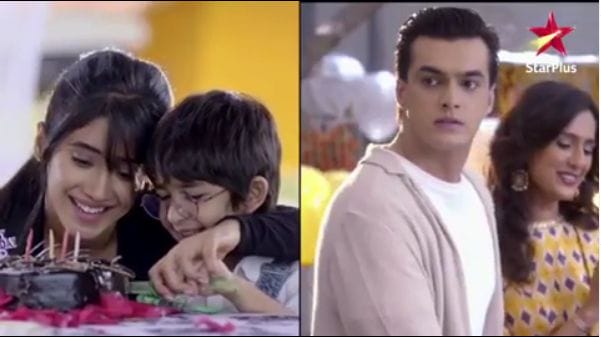 In the upcoming episode of Star Plus most popular show Yeh Rishta Kehlata Hai,Naira will ask Vansh to open the door so she could talk to Kairav.Vansh will refuse saying Kairav is his brother and upset.Naira will speak to Kairav from outside the door and tell him Karthik is the best dad he was the one who misunderstood him.Had it been any other father,he would have gotten angry on him but he dint.Also he was the one who jumped into the pool to save her.She explains how much Karthik loves him.Vansh will later tell Kairav that Karthik is the best and loves Everyone.Vansh will tell him that his father don't love him even a bit but he is lucky.
Karthik will act hysterical and blame himself for hurting Kairav.He will tell he din't listen to her when she told him not to do the Jolly drama.He will continue to blame himself mentioning their past and how he dragged her to court.Naira will calm him down and tell him that she too had done many mistakes.She shouldn't have ran away when he questioned her.She hid from everyone and dint reveal to him he had a son.She even planned to take him away.She too deserve to be punished.She will assure him she will fix this mess she created in first place.
The next day of Diwali everyone seem sad.Naira will try to cheer Karthik everything will be okay.They hear a dol sound and rush to living room.They see men dancing and a small gift wrapped box arrives with a kid in mask.Karthik will feel hope as it was the same way he came in as Jolly.When he reveal the mask it will be Vansh and not Kairav.Karthik will be disappointed.Vansh will tell him this year his Diwali will be special and point behind him where another gift box appear.
Kairav will jump out from the box and run toward Karthik hugging him.Karthik and Naira will get happy.He will apologize for hurting him and will tell him he is the best dad.
To know more keep watching the show and stay tuned.