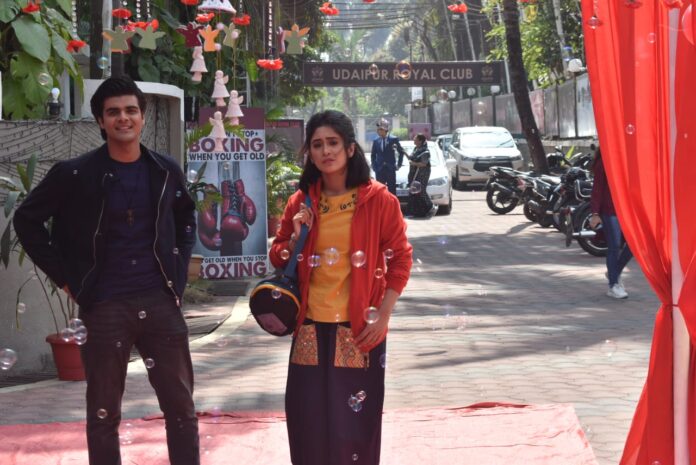 Yeh Rishta Kya kehlata Hai Upcoming Story, Spoilers, Latest Gossip , Future Story, Latest News and Upcoming Twist on Justshowbiz.net
Today's episode starts with Gayu says to Kartik that how can't she fail to recognize her sister. She says to Kartik that girl has the same face and voice. Kartik tell about Sirat. She says Sirat is just Naira's face alike. Suhasini asks Kartik if the girl looks alike Naira. Kartik says she is not Naira as she has her own family. He urges Goenka's not to talk about Sirat again else it will be difficult for him to handle Kairav. Gayu says to Kartik that girl was Naira only. Here, Kairav overhear Kartik and Gayu's talk. He think Naira was here and goes to meet Sirat. Kairav says Gayu too recognized Naira and now he should meet him. Kairav silently walks out from the house and run behind Sirat. There, Surekha says if the girl is Naira face alike than she is here for the money. Kartik says Sirat is not bad. Further,  Vansh asks Kartik about Kairav. Kartik asks Vansh if Kartik is not with him. Vansh says he went washroom and when he came back Kairav was not there. Kartik decodes Kairav might have heard about Sirat and would have rushes to meet her. He asks Keerti to handle Akshu and runs behind Kartik.
On the road, Kairav runs behind Sirat and asks her to stop. Sirat see Kairav and asks Rohan to stop the bike. She see bus chasing Kairav. Sirat save Kairav. Kartik gets stunned seeing Kairav and Sirat together. Kairav says to Sirat that he knows she is Naira. He tell Kartik and everyone loves her a lot. Kairav tell to Sirat that he also tell many talks about Akshu. Kartik insists Kairav to come back home. He asks Kairav to leave Sirat. Kairav refuses to leave Sirat. Kartik asks Rohan to handle Kairav for a while. He further, asks Sirat to stay away from Kairav. Sirat tell to Kartik she was here to apologize Kairav for being rude. Sirat tell Kartik she saw Naira's picture. She adds she can understand Kairav's pain because she too lost her father when she was young. Kartik accepts Sirat's apology and asks her not to come in front of Kairav again. Sirat leave the place. Kairav cries for Sirat.
Later, Karitk and Kairav argue over Sirat. Kairav faint and refuses to accept Sirat is not Naira. Kartik gets angry on Kairav. There, Sirat recall Kartik's word and gets restless. Suhasini asks Kartik to tell about Sirat. Kartik refuses to talk about Sirat. There, Mauri asks Rohan to take care of Sirat. Seeing Sirat restless, Rohan encourages Sirat to fight and win Udaipur boxing challenge. Sirat decides to fight back and win. Mainsh asks Kartik to stop being rude with Kairav. Karitk decides to secure Naira's memory in Kairav's heart he need to make Kairav distance from Sirat. (Episode Ends)
precap: Goenka's see Sirat and stands stunned.