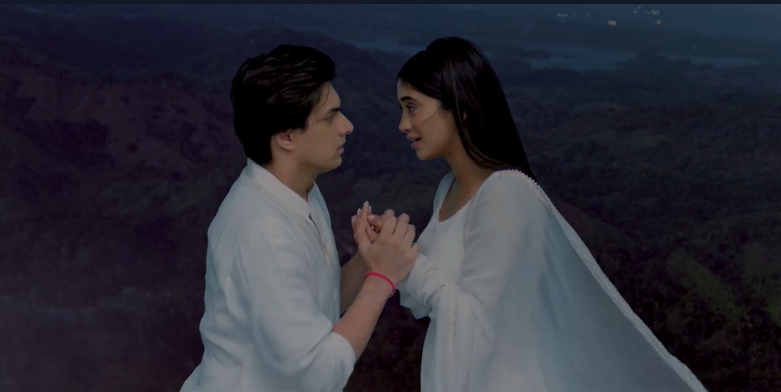 Yeh Rishta Kya kehlata Hai Spoilers, Upcoming Story, Latest Gossip , Future Story, Latest News and Upcoming Twist on Justshowbiz.net
Today's episode starts with Kartik talks with Naira's soul. Naira asks Kartik that she is with him but the difference is he is trying to find her outside and she is in his heart. Kartik says she is not there. He sleep he sees her, he opens his eyes he sees her but he cannot find her. Naira encourages Kartik to move on. Kartik refuses to listen and says whenever one dies the person die forever. But the one who is left behind dies daily. Kartik says to Naira he wants her. Naira says if he wants to find her than he should take care of their children. He says to Kartik that she is a wife and in his memory she will always alive. Kartik gets adamant to end his life. Naira makes Kartik understand that day they tried to save each other's life but none can change the destiny. She says she prayed to God and wishes to live a life with Kartik and her children but no one can go against the time. Kartik says they can change the destiny by he giving his life too. Naira makes Kartik understand that he has to move on in his life for her and their children.
Kartik gets shattered and apologize to Naira for not able to protect him. Naira console Kartik. Both says to each other that KAIRA is left incomplete. Song Humari Adhuri Kahani plays in the background. Naira kiss Kartik's hand and makes him wear the bracelet. She asks Kartik to fix the things. Naira asks Kartik to move and complete his responsibilities. She asks him to live for their children and smile for Goenka's. Kartik asks Naira not to give him big responsibility. Naira makes Kartik understand that he has to do it. Kartik cries and says he wants only her. Naira says it is not possible. Ahead, Naira takes Kartik back home. She makes Kartik learns how much Goenka's worrying for him. Naira says to Kartik what she can't do, he has to do it. She asks Kartik to keep everyone's promise.  Naira makes Kartik understand that from now he has to play a role of mother and father both for Kairav and Akshara. Kartik says he can't do it. Naira says he has to do it.
Kartik says giving upon his life is in his hand than why she is stopping him. Naira replies to Kartik that he doesn't want him to be called coward. She asks him to promise her that he will take all the responsibility. Kartik cries, Naira asks Kartik to let her go. Kartik hugs Naira. Naira promise to Kartik, whenever he will need her genuinely; she will come for him. Kaira shares dance on "lag ja gale" song. (Episode Ends)
Precap: Kartik packs Naira's stuffs.