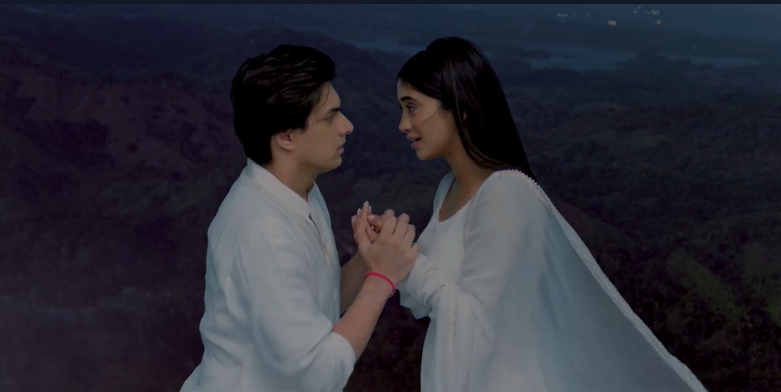 Yeh Rishta Kya kehlata Hai Upcoming Story, Spoilers, Latest Gossip , Future Story, Latest News and Upcoming Twist on Justshowbiz.net
Today's episode starts with Kartik saying 'I Love You' to Naira. Naira replies back Kartik. Kartik says to Naira that he has always loved her and will keep loving her.  Naira says to Kartik not to tie love and let it flow. Song 'Lad Ja Gale', plays in the background. Naira asks Kartik to smile as she wants to bid adieu with his smiling face. She adds she wants his smiling face so that when they meet again in next birth than she remembers his happy face. Naira goes. Kartik smile seeing sky lantern.
Next morning, Kartik comes back home. Here, Goenka's wait for Kartik. Akhilesh says it's morning. Naksh suggest to complaint to police. Akhilesh see Kartik on doorstep. Goenka's stands stun seeing Kartik. Kartik go near Naira's picture. Akshara cries in the meantime. Kartik takes Akshara from Gayu and see her. Kairav, Gayu, Suwarna and others get happy. Kairav go to Kartik. Kartik hugs Kairav and asks Goenk'a not to worry as he is back. Krishna hugs Kartik too. Ahead, Kartik packs up Naira's things recalling her last words. He keeps her bracelet at last and closes the trunk.
Few months later;  Kartik runs on road to collect a kite. He sits shocked seeing the kite. In the flashback it is seen, Kartik plays with Akshara, Vansh and Krish. Vansh call Kartik cool. Kartik asks about Kairav. Vansh inform Kartik that, Kairav is in washroom. Manish come and asks Kartik to give Askhara to him to play. Kartik refuses to give Akshu to him. He says he plays with Akshu already. Manish says to Kartik that he only leave Akshu for 5 mins when he goes to washroom. Suwarna come and asks Manish to bring new reason as with the same reasons, Kartik won't give Akshu to him. She further gives small trunk to Surekha.
Luv Kush come and asks Kartik about Kairav. Kartik says in the washroom. Luv says Kairav is now here. Kartik worries for Kairav and looks for him. He finds him sneezing and takes care of him. Kairav say he is fine. Akhilesh asks Luv why he said about Kairva. Luv apologizes and says he didn't realize. Vansh says to Krish, Kartik gets happy sometimes and sad next moment. Luv says Kartik is not sad but is possessive for Kairav and Akshara. Later, Kairav along with Krish and Vansh fly the kite. Keerti come and hugs Mainsh. She shares a talk with Kartik. Keerti says she don't know how Kartik is so calm. She cries for Naksh and says he is so shattered that he left her and Krish. Suwarna says even Suhasini and Krishna leave the house. Later, something falls and Keerti, Akhilesh, Surekha, Mainsh and Suwarna runs inside and worry for Gayu. Gayu says she didn't got a chance to apologize to Gayu. Suwarna and Mainsh says Gayu is in shock. There, Kairav asks Kartik to save his kite as he has written a message on it. Karitk worry for the kite. (Episode Ends)
Precap: Kairav worries and thinks what will happen when kartik will read his message on kite.