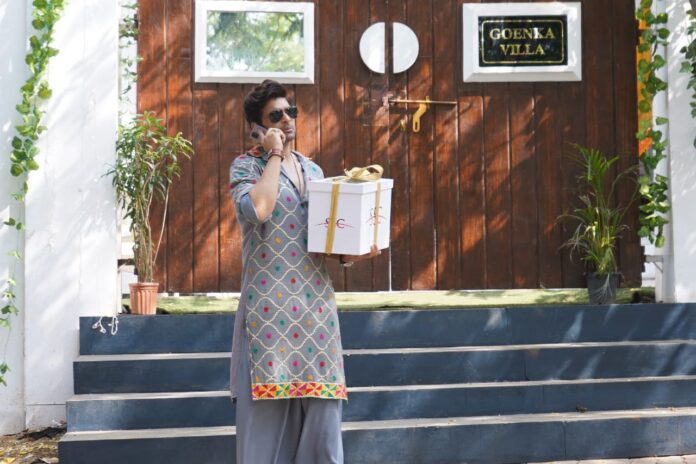 Yeh Rishta Kya kehlata Hai Upcoming Story, Spoilers, Latest Gossip , Future Story, Latest News and Upcoming Twist on Justshowbiz.net
Today's episode starts with Sirat excitedly seeing gloves and shoe. She thanks Kartik for the gift. Kartik asks Sirat not to be extra happy else her first love will get jealous. Sirat says no gift can be perfect other than this. Kartik receives a call from Ranveer. Here, Mauri and Suhasini prays for Kartik and Sirat's good future ahead.
Ranveer tells to Kartik he was stuck in urgency thus given the parcel to his security guard. He asks Kartik if he likes the gift. Kartik thanks Ranveer. He tells the one who received the gift is super happy. Sirat decides to thanks Ranveer. Kartik gives call to Ranveer. Before Sirat and Ranveer can hear each other voice, mobile hangs up. Ranveer recalls his moment with Sirat. Sirat thinks God doesn't want her connection with the caller thus, call hang up.
Other side, Sheela tells to Suhasini and Suwarna that she will do their makeup and massage for them in discount. Suhasini asks Sheela if she is fine as when she came her hands were wounded. Sheela makes an excuse and leaves the place. Sirat comes with Kartik and asks Suhasini what Sheela was saying. She asks Suhasini to let Sheela stay with her at outhouse. Suhasin asks Sirat not to worry about Sheela. Suwarna asks Sirat about gloves and shoe. Sirat excitedly shows to Suhasini, Mauri and Suwarna her gloves. She says Kartik gift her. Suwarna asks Kartik to see how happy Sirat is. Sirat decides to keep gloves and shoe securely.
Sirat takes the box with her. She see something and recalls about Ranveer. Sirat thinks she will move on from her past. There, Ranveer's friend informs Ranveer that his family is shifting to Udaipur. He tells to Ranveer that Chauhan is fighting election from Udaipur this time. Ranveer says Chauhan doesn't fight just win by hook or crook. He says his father has given him pain for lifetime.
Ahead, Sirat tells to Kartik about Ranveer too giving similar gifts to her. Kartik says gift is given to bring smile on someone's face. He adds everyone knows only gloves can give her happiness. Kairav comes and informs about idol decorating competition during Gangaur festival. Sirat gets excited. Kartik recalls his past with Nairar. Riya decides to decorate the idol so that none wins other than her.
Afterwards, Sirat and Kartik gets ready for Gangaur festival (aaoge jab tum) plays in the background. Ranveer too gets ready for the festival. Later, Kartik and Kairav gets smitten seeing Sirat. (Episode Ends)
Precap: Kartik and Sirat dance together. Further, Sirat, Kartik and Ranveer reach the same temple.