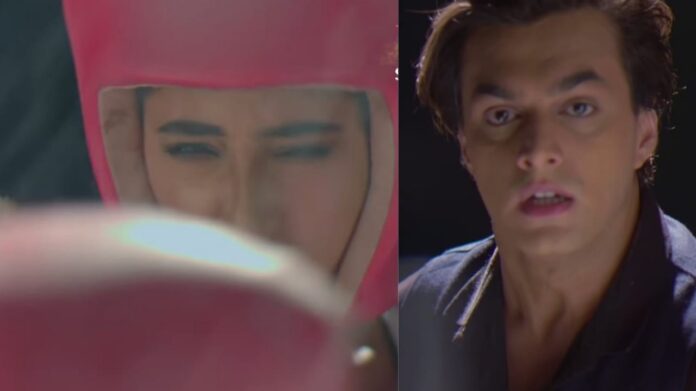 Yeh Rishta Kya kehlata Hai Upcoming Story, Spoilers, Latest Gossip , Future Story, Latest News and Upcoming Twist on Justshowbiz.net
Today's episode starts with Kartik looking for Kairav. He asks boxing coach about Kairav. Coach tells to Kartik that Kairav is in a changing room. Kartik says to coach, he wants to change Kairav's stream as he will not allow him to practice dangerous sport like boxing. Coach tells to Kartik that Kairav is interested in boxing. Kartik says Kairav is a kid and he knows what is good and bad for him. Coach says he is very different father. Kartik gets angry on coach and Kairav calls Kartik from behind.
There, Suwarna shows knitted cloth for Vatsal. Gayu gets happy and cry later thinking Naira was about to knit sweater for Vatsal but she upset Naira and she left them alone. Gayu cries and leave the place. Akhilesh come and says to Suwarna, all are upset but hiding pain. Keerti come and says not only Kartik even Naksh hasn't talked anything apart from Naira. Mainsh says Kartik is engaging himself in taking care of Akshu and Kairav so that none can see he is in pain and miss Naira. Surekha intervene and suggest about Kartik's second marriage. Goenka's stands shocked. In the meantime, Manish receives a call and stands stunned.
Ahead, Kartik says to Kairav that he is hurt thus, he is stopping him from opting boxing. Kairav tell to Kartik that he got hurt because Vansh by mistake hit him with bottle. Mainsh asks Kairav to go inside and blocks Karitk's way. Kartik says to Mainsh that Kairav is hurt and he needs to take care of him, thus he has no time to share a talk. Mainsh says to Kartik that he will take care of Kairav as all can see Kairav is not hurt. Further, Mainsh asks Kartik not to do extreme in his possessiveness towards Kairav and Akshu. He asks Kartik to give space to them. Manish asks Kartik why he hit Kairav's coach. Kartik and Manish argues with each other. Manish decides to separate Kairav and Akshu from Kartik for his betterment. Kairav over hears Mainsh's talk.
Late at night, Kairav see Kartik in sleep worrying about him and Akshu. Vansh come and console Kairav. Kairav shares with Vansh for the sake of Kartik, he needs to leave him. In the morning, Goenka's worry how they will convince Kairav to go in boarding school. Kairav come and pretend excited in going to boarding school. Vansh tries to tell to all that Kairav miss Kartik but Kairav stops him. Luv Kush asks Kairav if he know what is boarding school. Kairav asks them to tell him later. Ahead, Kartik gets angry on Manish and others for trying to separate him with Kairav. He refuses to send Kairav. Mainsh and Kartik argue again. Kairav asks both not to fight. He pleads Kartik to send him boarding school as it is his wish. Kartik stands shocked. Kairav urges Kartik to let him go. Kartik think he can't stay separated with Kairav (Episode Ends)
Precap: Kartik escapes the house with Kairav.