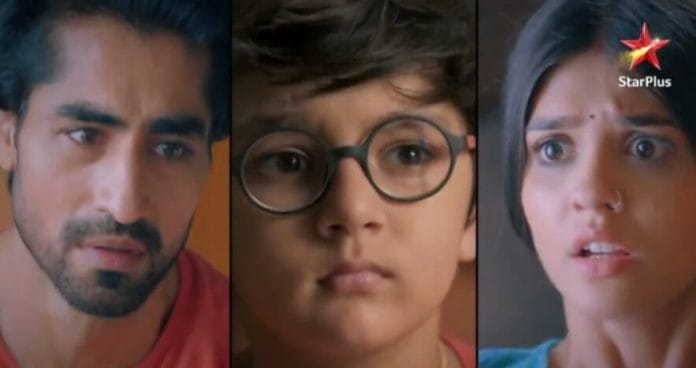 Yeh Rishta Kya kehlata Hai Spoilers, Upcoming Story, Latest Gossip , Future Story, Latest News and Upcoming Twist on Justshowbiz.net
In today's episode, Abhir talks with Abhinav's picture. Manish overhears Abhir's conversation. Abhir asks Abhinav to unite Abhimanyu and Akshara. He talks about his flop plan. Abhir says he even asked for the same wish from Lord Ganesh. Manish asks Abhir to keep faith in Abhinav and God. He asks to keep patience until Abhimanyu and Akshara reunite.
Abhimanyu gets an emergency call to attend a patient. He asks Akshara to call the driver and go back home. Abhimanyu decides to drop Akshara. Akshara asks Abhimanyu to attend to the patient first. Abhimanyu decides to check on the patient and drop Akshara later.
Arohi and Anand confront Parth about purchasing an oxygen cylinder at a double price. Parth explains to Anand that after the pandemic, the price of oxygen cylinders has seen a rise. He asks Anand to recheck. Arohi and Anand learn that Parth has purchased a new car. Anand confronts Parth. Parth gets angry at Anand for questioning the purchase of a car. He gets angry.
Abhimanyu and Akshara get stuck. Abhimanyu thanks Akshara for bearing with his mood swings. Akshara and Abhimanyu order food at Dhaba. Akshara learned Abhimanyu knew she was waiting for him at the canteen. Swarna asks Manish to call Akshara. Kairav decides to call Abhimanyu. Muskaan questions Akshara and Abhimanyu's relationship. Kairav asks Muskaan to control her tongue.
Akshara sees Abhimanyu as calm. She talks to Abhimanyu about giving him a second chance. Abhimanyu tries to avoid relationship talk. Akshara asks Abhimanyu what problem he has. Abhimanyu is about to pour out his feelings. He demands a bill.
Muskaan asks Kairav why no one has a problem with Abhimanyu and Akshara spending time together. She asks Kairav why Abhimanyu and Akshara are working together. Kairav asks Muskaan after him; she has a problem with Abhimanyu and Akshara spending the night together.
Akshara and Abhimanyu learn that they have to spend a night together because of the storm. Manish gets a message from Akshara. He tells Akshara and Abhimanyu they are stuck together. Muskaan asks the Goenkas if they don't have any problems, as Akshara and Abhimanyu will spend a night together. She questions Akshara's character. Kairav gets angry at Muskaan. Muskaan calls the Goenkas double standards. Kairav breaks his tie with Muskaan for insulting his family. Swarna and Surekha warn Muskaan.
Akshara and Abhimanyu stay in the same room. Both struggle to sleep. [Episode Ends]
Precap: Akshara asks Abhimanyu to catch up with his mood swings. Abhimanyu confesses love to Akshara. Akshara gets stunned.
Also See: