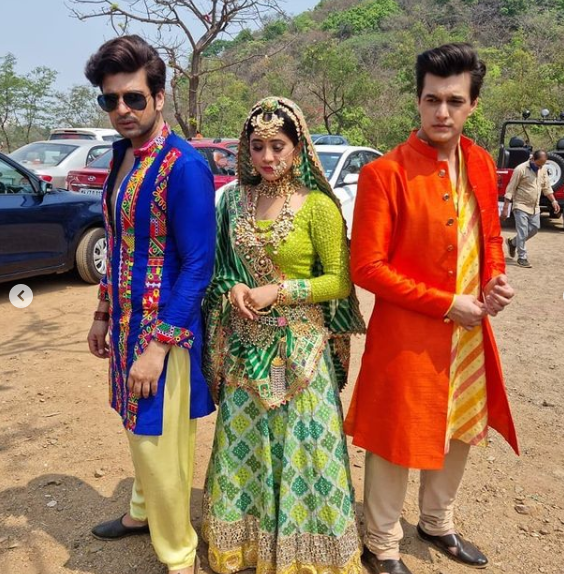 Yeh Rishta Kya Kehlata Hai Upcoming Story, Spoilers, Latest Gossip , Future Story, Latest News and Upcoming Twist, on Justhowbiz.net
Episode begins with Ranveer saying I am lucky as she lives in my heart but I am unlucky as she is not with me. Ranveer says bur you carry on, you have a fiance. Kartik says yeah she is waiting for the chunri, I pray for you that you get the girl you are looking for. Ranveer says I hope to meet you with your wife next time. He goes. Ranveer leaves. Here, Sirat looks out for Kartik and finds him. Kartik gives her the chunri. Sirat tells him the shopkeeper is asking for money. Kartik says let's go by the way the guy to whom the chunri came was very funny. Kartik says you look very girlish today. Sirat says girlish? Kartik says yes in this outfit you look like real girl. Sirat says you are doing things to get punch. Kartik says this world punches them who tells truth. Sirat says you like my this avatar so I will stay like this. Kartik says I am sorry lets go now. They both laugh off. Sirat says now lets go. They go.
Here, Dadi brings Manish aside, and says don't spoil your mood on a festival day. Manish says my son is ruining his life and how can I be calm. Dadi says even when Kartik was marrying Naira we thought the same but it was a good decision. Manish says kismat was good once it won't happen again and again and Naira hailed from a good family, this girl is fraud. Dadi says even she can say we are trying to get benefit out of her. Manish says you say whatever you want but I don't approve of this. Here, Sirat sees a green duppata on a jeep and remembers past.
How Ranveer showed Sirat his first bike and they decide how they will look hot while riding thia together and everyone will be jealous. Sirat then ties a green dupata on the bike handle saying now no one will put bad eyes. Ranveer kisses her and then go on the bike ride. Flashback ends.
Kartik comes and says what are you looking at here, there is no one. Sirat says nothing. They are about to go and Sirat slips, Kartik holds her. Sirat fixes her chappal. Kartik says be careful while walking, Sirat thinks I wish someone would have given me this advice earlier.
Kairav comes and takes Kartik and Sirat.
They come to everyone. Suvarna says look at Kairav how he is happy with Sirat around. Dadi says Devyaani is Naira's dadi and she is going to come. Kartik says why did you call her here, I was planning to go to her and talk to her. Dadi says Naksh is not in town so I only told Kirti to come with Devyaani. Dadi says you can believe only when you see it with your own eyes. Sirat dances with pot on her head. Here, Devyaani comes and sees Sirat and is surprised. She hugs Sirat.
Devyaani tells her how she did the birth of Naira and it attached her more to Naira. Sirat calls her choti dadi and Devyaani thanks god for sending Sirat here and she wishes that she lives around here only. Sirat says yes. Kartik says that's why we are getting married. Kirti gets shocked and takes Kartik aside. She asks Kartik if someone forced him and if he marries Sirat will he be able to forget the accident. Kartik says no one forced her. Dadi calls them for puja so they leave.
The puja begins, here Ranveer and his friend come and watch the puja happening from far. Ranveer says this song was my and Sirat's favourite and we used to dance. Chandu says consider me Sirat and dance with me today. Ranveer says let's work. Chandu says on vrat day the person should dance too. They dance.
Here, Sirat says your sister didn't like it. Kartik says I am not thinking about it right now. Sirat says so you are thinking about Naira, then tell me also we will remember her together. Kartik says no. Sirat says we are friends na so you can share whenever you want. Kartik says sorry even you can share as you also have a hurting past. Sirat says yes we will share and heal things. Naira thinks about Ranveer and imagines him. Kartik remembers doing puja times in past with Naira.
Here, Ranveer starts his puja and imagines Sirat. Dadi tells Kartik and Sirat to do the visarjan together. They do it. Here, Ranveer is doing his puja while still imagining Sirat with him. Kartik says our condition is like diya only we decided something and like the flame going on but what is in faith we don't know. Here, Ranveer thinks no one can come in my life, it will be only you or no one let's see what is in store for me in fate. Sirat thinks what did you think Ranveer I will be still waiting for you but now you won't find me here, I am moving on.
Episode ends.
Precap: Sirat thanks Kartik for changing the sagai venue so that her tournament is not affected. Kartik says shaadi means happiness for both so I didn't want you to compromise. Sirat is about to hug Kartik but accidentally pushes Kartik into the pool. He falls. Later, Kartik chases Sirat and throws her into the pool. Sirat asks for help inside pool saying she doesn't know how to swim. Kartik is worried.
Click to read: