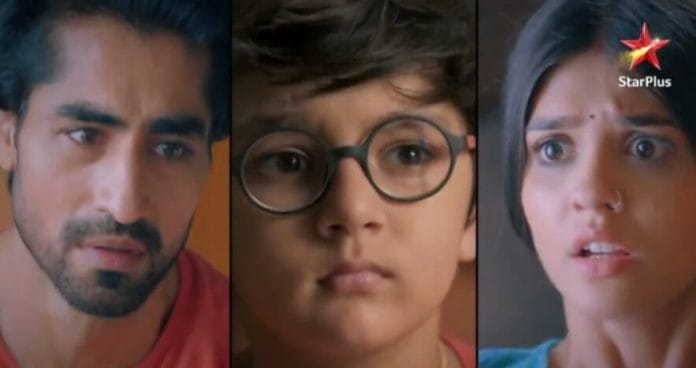 Yeh Rishta Kya Kehlata Hai Spoilers, Upcoming Story, Latest Gossip , Future Story, Latest News and Upcoming Twist on Justshowbiz.net
In today's episode, Abhira and Akshara help Anurag's wife. Kriplin tells Akshara that Jagrag has instructed the police to shut down Yuvraj's case. Akshara decides to fight with the system. Abhira decides to help Akshara send Yuvraj to jail. Kriplin asks Akshara to ignore her, as they can't fight Jagraj. Smita asks Akshara and Abhira to fight for Anurag's justice. She decided to witness Yuvraj in the case. Akshara and Abhira vow to send Yuvraj to jail.
Vidya and Kajal compete in making rangoli. Madhav sits far away. Sanjay asks Mrs. Poddar whom she wants to win the competition between Vidya and Kajal. Mrs. Poddar says she wants Vidya and Kajal to both win. Arman gets a picture of Ruhi's rangoli. He asks Ruhi to learn to be more perfect like Vidya. Vidya and Kajal get equal praise. Madhav gets a chance to choose the winner. Madhav chose Kajal. Sanjay refuses to praise Kajal.
Vidya says to Madhav that she didn't feel bad about losing, as the whole life she lost because of her husband. Mrs. Poddar says next year there will be three rangolis. Arman, Aryan, Krish, Kiara, and Charu tease Rohit. Arman demands the girl's names. Mrs. Poddar diverts the talk.
Abhira is troubled by Yuvraj. She says she knows where Yuvraj will be. Manish calls Vidya. He asks Poddar's to give time to Ruhi. Mrs. Poddar gets angry after learning that Ruhi wants the time. Vidya calmed down Mrs. Poddar.
Arman and Ruhi flirt with each other. Ruhi gets excited for her first date. Arman decides to propose and tell Ruhi about his true identity. Both get excited to meet each other. Akshara asks the police to arrest Yuvraj. Abhira tells the police that Yuvraj is near the church. Akshara asks Abhira if she is sure. Abhira assures Akshara. Akshara asks the inspector to arrest Yuvraj.
Kriplin asks Akshara and Abhira if they are sure to fight against Jagrag. Akshara decides to fight the case. Manish remembers Abhira. He tells Swarna and Surekha that he failed to meet Abhira's mother. Manish doubts Abhira has a connection with him.
Yuvraj gets arrested. Akshara discussed with the inspector Yuvraj's charges. Jagraj asks Abhira to be alert. He says what if Akshara has the same faith as Anurag? Abhira stands stunned. -Episode Ends
Precap: Ruhi waits for Arman. She feels Arman will not disappoint her. Abhira and Arman bump into each other in Yuvraj's case.
Also See: