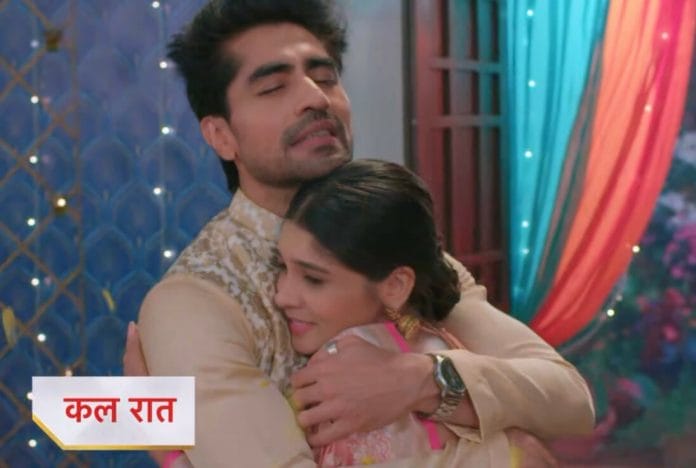 Yeh Rishta Kya kehlata Hai Spoilers, Upcoming Story, Latest Gossip , Future Story, Latest News and Upcoming Twist on Justshowbiz.net
In today's episode, Abhimanyu says he doesn't want any gifts. He says the Birlas are throwing a grand wedding, and it is enough for him. Manjari remembers the confession by Akshara. Akshara made a promise to Manjari about giving 100% to Abhimanyu and her relationship. Shefali says they will give a gift to Abhimanyu. Sujit agrees with Shefali. Akshara says she doesn't want any gifts. Suhasini asks Akshara if she doesn't want Naira's blessing too. She gives Naira's belongings to Akshara. Akshara remembers Naira and her wedding. She leaves the place. Kairav is about to go behind Akshara. Suhasini stops Kairav. She asks Kairav to let Akshara spend time with Naira.
Akshara misses Naira. She confesses after Abhir's birth; she misses Naira a lot. Akshara wants Naira's guidance to raise Abhir. Abhimanyu says Naira is with Akshara. Akshara says everyone compares her with Naira. She adds about being clueless if she is like her father or mother. Abhimanyu says Akshara belongs to Kartik and Naira, respectively. He says that being with his parents, he is clueless if he is like Manjari or Harsh. Akshara says they are being selfish by giving love to Abhir because their childhood wasn't perfect. Abhimanyu makes Akshara understand. He further asks Akshara to get ready, as a choreographer has arrived to teach them dance.
The choreographer teaches dance to the Birlas and the Goenkas. She gets furious after no one takes dancing seriously. Akshara and Abhimanyu get upset with the insult from the choreographer. They decide to dance and show her. The Birlas and the Goenkas like Akshara and Abhimanyu's dance. Everyone claps for Akshara and Abhimanyu.
Sujit touches Arohi inappropriately. Arohi stands stunned. She understands Sujit's intentions. Arohi decides to expose Sujit. She wonders if, during the wedding, she will do anything and drama will happen. Akshara touches Arohi. Arohi reacts after Akshara touches her. Akshara asks Arohi what the matter is. Arohi makes an excuse. Akshara doubts Arohi's changed behavior. Akshara decides to find out what is bothering Arohi.
The Goenkas and the Birlas gather for the mehendi ceremony. Shivu and Ruhi bring Akshara. Abhimanyu stands mesmerized, seeing Akshara. Akshara notices Abhimanyu. Abhimanyu wonders if Akshara caught him. Manjari asks Akshara to have food; otherwise, once the mehendi function starts, she won't be able to eat. Akshara tells about her fasting. The Mehendi ritual starts. Suhasini looks for a cone. Abhir and Shivu say they will apply mehendi with peacock feathers. Akshara and Abhimanyu remember the past. [Episode Ends]
Precap: Akshara encourages Arohi to take a stand against Sujit. Arohi slaps Sujit in front of everyone.
Also See: