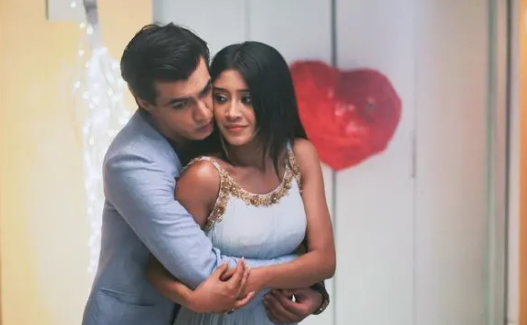 Yeh Rishta Kya kehlata Hai Spoilers, Upcoming Story, Latest Gossip , Future Story, Latest News and Upcoming Twist on Justshowbiz.net
Today's episode starts with Chori asking Kartik if he realizes his mistake. Kartik says yes and asks her to let him enter the house. Chori closes the door. Kartik tries to tempt Chori with sweets, clothes so that she opens the door. Chori refuses to believe Kartik. Kartik thinks Chori is more adamant than Naira.
There, Keerti asks Suwarna if she did wrong. Suwarna tells to Keerti that she was wrong yet because of it Kartik realizes his mistake. Ahead, priest comes to Goenka's house for the puja.
Other side, Naira comes and spots Chori standing on the door. Chori lie to Naira that she is not opening the door for anyone. Naira says to Chori not to open the door for anyone. Meanwhile, Kartik jumps inside Naira's room. He sees his effigy and gets happy. Further, Kartik sees Naira's ring and misunderstand that Naira is thinking about taking divorce with him.
Naira and Kartik face-off happens. Kartik tells to Naira that he realized his mistake. Naira refuses to talk with Kartik. Kartik shows his disappointment and talks with Naira that he won't let her take any decision in hurry. Naira misunderstands Kartik and thinks he might be talking about doctor's appointment for Manish. Kartik reveals that he won't let her take divorce. Naira stands shocked hearing divorce. Naira hits Kartik with broom. Chori enjoys Kaira's cute fight.
Ahead, Naira and Kartik clears their misunderstanding. Naira asks Kartik to go back to Manish. Kartik says to Naira that Manish equally needs her. Naira says to Kartik that she won't return back home because whenever he is around she recalls his word. She leaves the place.
Chori asks Kartik not to stop trying. Kartik decides to do something for Naira. Meanwhile, Chori informs Suwarna that Kartik is planning something and no sooner everything will be fine between them she will infrom them.
Later that night, Kartik gets teary seeing Kartik's effort for saying her sorry. (Episode Ends)
Precap: Kaira reunites.