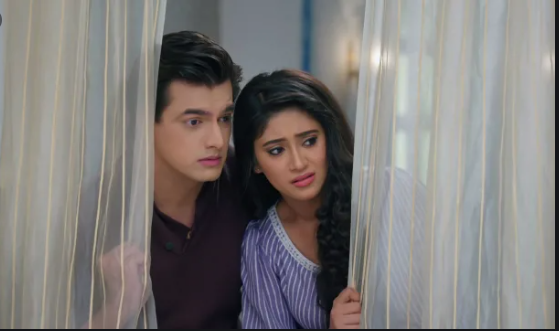 Yeh Rishta Kya kehlata Hai Spoilers, Upcoming Story, Latest Gossip , Future Story, Latest News and Upcoming Twist on Justshowbiz.net
Today's episode starts with Kartik giving back hug to Naira. Song Lag Ja Gale plays in the background. Naira feels upset. Kartik says to Naira that he was here to apologize her but he always mess up the thing. He asks Naira not to excuse him. He leaves. Naira runs and stops Kartik. Kaira spends quality time together. Kartik says to Naira that he wants to celebrate her belated birthday. He sees ring is Naira's hand and kiss her.
Afterwards, Chori gets happy seeing Kaira patch up. Kartik asks apology from Singhania's too. Naksh says to Kartik that Naira's heart is big she can excuse him but he will not excuse him for always hurting his sister. Kartik agree with Naksh. Naira asks Naksh to forgive Kartik. Further, Kartik asks Chori if she will become his friend. Chori says she will think. Kartik and Naira about to leave, Chori stops them and asks them to give Manish a card she has prepared from him. Kartik asks Chori to come along with them home.
Suwarna gets happy seeing Kartik and Naira together. Chori comes too. Surekha asks Kartik if he allowed Chori to enter the home. Kartik says yes. Karia decides to meet Manish. Surekha reveals that Manish is not at home. She says Keerti and Akhilesh took him to the care centre near to Suhasini's ashram. Kartik gets angry. He calls Keerti and accuses her for deliberately taking Manish far from him. Keerti calms Kartik.
Late that night, Kartik on video call talks with Manish. Manish tells to Kartik that he miss him and gets sad. Kartik tells to him that he will come soon to meet him.
There, Naksh takes care of Keerti. Keerti asks Naksh if she did right or not by sending Manish to care centre. Naksh console Keerti.
In the morning, Goenka's wishes for everything to get fix soon. Meanwhile, Chori does the Morning Prayer. Goenka's praises Chori. Chori reveals to them that he was asking God to give Parents to her too. Later, Naira learns from Sudha that one family wants to adopt Chori. Naira gets sad. (Episode Ends)
Precap: Goenka house catches the fire. Chori gets struck inside.