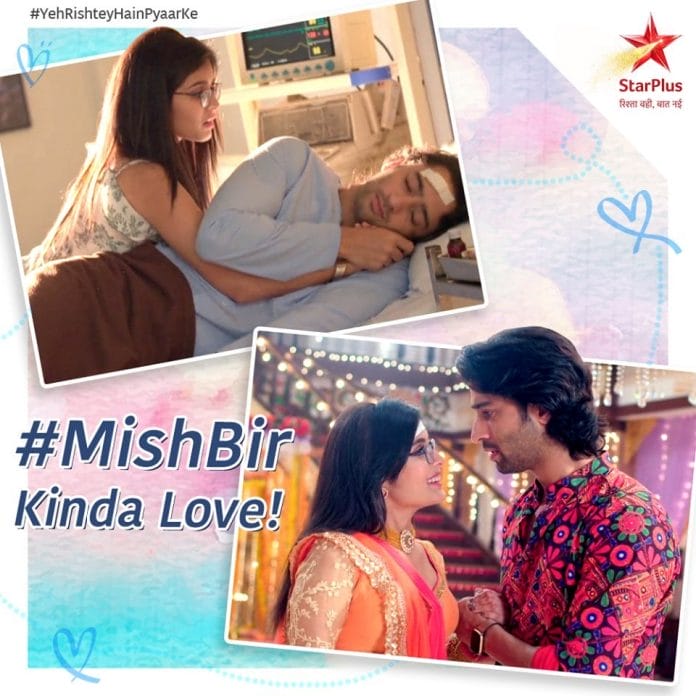 In the upcoming episode of Yeh Rishtey Hain Pyaar Ke, Abir will cry looking at an unconscious Mishti and confess his love for her. He will tell her how he became pressurized by his mother and left her. He will pray for a miracle. Mishti will regain consciousness and apologize to him for putting him in danger. Parul will pray to God for Abir asking for a miracle to relieve his pain. As Abir and Mishti look at a burning log on top of the ditch in fear, it start to rain heavily. Abir will declare it's a miracle.
News channels report the jungle fire and cyclone outside Rajkot. Rajshri will get panicked for the kids. Nishant will watch the news in hospital and worry for Mishti safety as he knew Mishti is in forest. He will quickly leave to save them as he learn from his assistant that Abir followed Mishti to forest. Kunal will sit beside Kuhu and she suddenly hold his hand and cry in sleep that he will leave her again. He will sit close to her and promise he will not from there wiping her tears.
Meenakshi will inform Parul that she has found an alliance for Abir and they are coming tomorrow. Parul will ask her how Abir will agree. Nidhi will come and inform them about news. They rush to see news. Meenakshi will get tensed as she cant reach Abir. Nishant will bring a rescue team in search of them. Mishti will see a log about to fall on Abir and push Abir, it land on her. She gets hurt and go unconscious. Nishant will find them in the ditch and they ties rope to Mishti. Mishti will still hold Abir's hand inspite of being unconscious. They lift them both.
Meenakshi will decide to call Kunal and step Away. Parul will see the news showing Mishti and Abir as get saved from the ditch. She will quickly switch off tv. Meenakshi will panic and Parul will go to bring her medicines taking the remote along. Meenakshi will search remote then switch it on tv directly. She will be shocked seeing Mishti on tv.
To know more keep Watching the show and stay tuned.