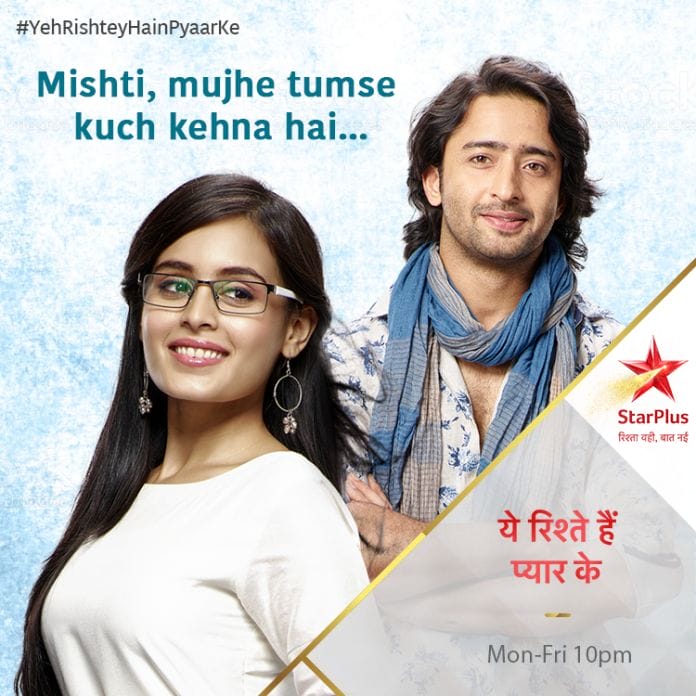 Star plus popular show Yeh Rishtey Hain Pyaar ke has been keeping the audience entertained with their current track where Mishti is saved by Abir and is determined to make him confess his love. In the upcoming episode Meenakshi will leave angrily after seeing Abir taking care of Mishti in the hospital room. Nishant will meet Mishti who will be happy that Abir still love and care for her. Nishant will find himself feeling sad and confused about his feelings toward Mishti. Abir will decide to confess the truth behind his break up to Mishti. When he was about to talk to her. Kunal will come worrying about Abir.
Abir will leave without telling her but Mishti will guess correctly that he came to tell her the truth if not for Kunal entry. Nannu will have an inner struggle with his sudden change in feelings for Mishti. Abir will get to know about Kuhu and scold Kunal for not being with her. Lakshman will give some letter to Meenakshi where she will get to know about Nishant's identity and that he had cancelled a big deal with American company and instead made a deal with Abir thereby incurring huge loss. Meenakshi will tell Lakshman that it must be a cunning plan by Nishant and Mishti and she will not leave them.
Kuhu will get home and Mami worries seeing her taking tablets. Later Meenakshi will learn from Kuhu that she was unwell and understand that Kunal must have been with her and she had scolded him for not knowing Abir's whereabouts. Nishant and Mishti will reach home and keep trying to call Kuhu after hearing from hospital that she left. Nishant will once again feel uncomfortable with Mishti.
To know more keep watching the show and stay tuned for updates.