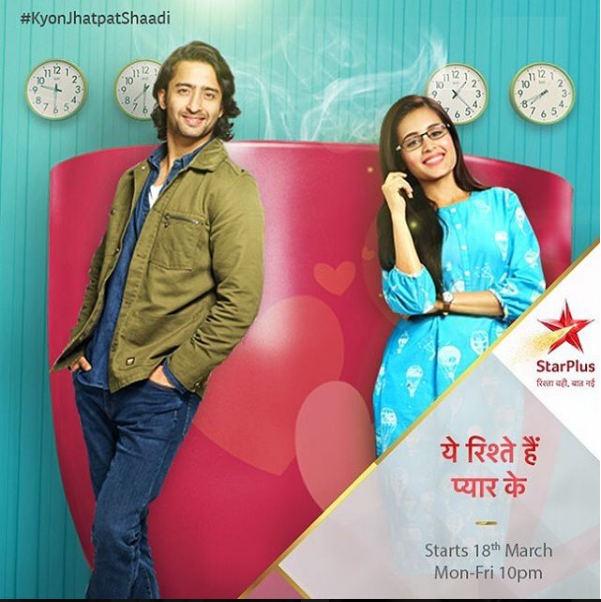 The episode start with In the upcoming episode of Yeh Rishtey Hain Pyaar Ke,the pandit asks Mishti if she found the person she was looking for. Abir asks pandit who was she looking for while Mishti gets nervous. Pandit tells Abir due to his he forgets a lot and finally recollect and tell him his name is Mehul. Mishti asks Pandit not to tell Abir she came here to check about Mehul. Abir overhears this and is shocked. He refuses to listen to anymore lies of Mishti and angrily leaves while Mishti keeps on calling him from behind. Pandit tells her, that there is a mela day after tomorrow and people who migrated from this village will visit, they might know more about Mehul.
On the other side Kunal overhears Kuhu talking on phone thanking her friend for pretending to be a journalist. in the Maheshwari house, everyone in having dinner after keeping fast for the entire day. Kunal comes there with a cake saying that today his marriagewith Kuhu completed two months and so he thought to celebrate it. Everyone is happy to see that Kunal taking care of kuhu in an adorable way. Kunal smears on Kuhu's face in a humiliating way. Kaho pretends to be normal and leaves the place.
Abir tells himself that if Mishti lies about something she must have a reason.He scolds himself for asking her reason when she is not ready. He feels sorry to behave so badly with her and suddenly a bus comes there and two people carrying a mirror beside him. He noticed the reflection of Mishti in the mirror as she is all decked up in the saree he bought for her. He gets mesmerized to see her beauty that pink saree and she comes close to him and a red scarf falls on them covering the two. Mishti sees the moon through the scarf and then she saw the face of Abir symbolizing it as a completion of their first Karva Chauth fast for each other.
Both of them break their fast by feeding each other a cup of tea and chips much different from the normal rituals. Mishti says to do you know why people keep this first this is because to pray to the almighty gives their partner a long life. Abir says all the time girls got the credit for keeping such fast for their partners and husband but he thought to keep it for her as well so that she can have a long and healthy life. Mishti says in this long life she will never let anybody hurt him ever. Meenakshi and Mehul had a face of with each other where Mehul is questioning her where she was the whole day? Meenakshi says how dare him to talk to her in such a tone?
Kuhu goes for jogging and Kunal comes there. He tellsl her that divorce papers will reach her house tomorrow. Kuhu bravely replies him its okay. Her family will cry and get sad but they will support and stand by her.She taunts him that once the truth about divorce comes out his family will be angry with him and he will be left alone.
Abir informed Mishti about the engagement date which is scheduled to be the day after tomorrow. Mishti is in a dilemma as she has made up her mind to visit Rajgarh again on that day. Abir says is she sure to get engaged with him? Mishti smiles at him and says she is so happy about all the things but day after tomorrow is too early.
Precap – Mishti and Abir traveling on the top of the bus.