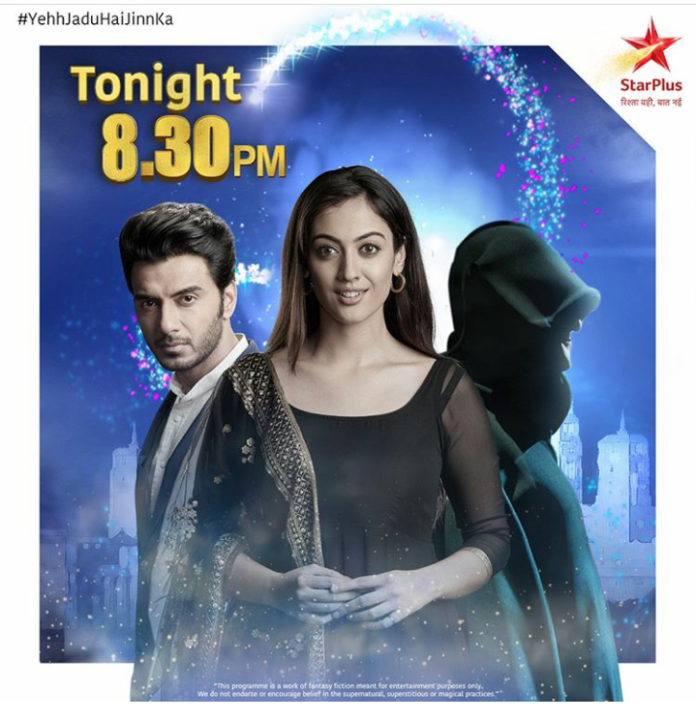 Yehh Jadu Hai Jinn Ka Upcoming Story, Spoilers, Latest Gossip, Future Story, Latest News and Upcoming Twist, on Justhowbiz.net
Episode begins with Bazigaar brings Roshni and Aman to a darker place and Roshni doesn't understand why she is here? Aman says maybe he wants us to see anything about Rubina. Suddenly Roshni and Aman get to hear the sound of Roshni and Rehaan laughter.
Roshni and Aman finally go to check and notices Rehaan and Shayari are laughing continuously. Aman tries to ask them why they are laughing like a maniac? Shayari and Rehaan told them with much difficulty that Rubina has spread the spell of laughter on them and they will die with the laughter. Aman says to Roshni we have to seperate them first. On the other hand, Rubina is getting happy to think that Rehaan and Shayari are going to die soon.
Aman beats Rehaan so much intensely and Rehaan finally stops laughing so much. Rehaan asks Aman to stop beating him and asks you must be enjoying this. Aman says I was not while doing it but now thinking about it is making me laugh too. Roshni tries to make Shayari angry but she is not stopping laughing and Roshni thinks to make her feel emotional and sad. She says something in the ears of Shayari and she gets emotional and asks Roshni does Aman and family members know about this?
Roshni says I will tell him, later Rubina says to then you people successfully saved Rehaan and Shayari but will not be able to save Armaan because he is the one key for me to make you people bound to strike a deal with me. She says my only offering is give me my angelic heart and takes away your son Armaan away. They come back home and decided to tell the housemates about it. They gets worried and Aman blames himself for what ever is happening around. He asks sorry from Roshni when she walks up to him and says you don't need to be sorry at all and she tries to present her thoughts in front of him.
She says please accept that I have to go on the day of bright sun as per Rubina is demanding and Aman gets disturbed. He says you are not alone anymore, there is a lifestyle inside you and you are going to be a mother soon then how will you think to end another life? She says I have an idea and asks Shayari if she is ready for this? She says Shayari will be the carrier mother for her child and she will give birth to it instead of her. Shayari says I can't deny you but your call is wrong. Roshni says if not you I will find someone else but will not change my decision.
Rubina thinks each and every time some how Khan family members gets away from her planning and plotting and not even once she is able to do anything to them. She thinks just because they have Armaan doesn't mean they can fall weak or will stop thinking. They can still think and save themselves and rescue Armaan too. She thinks she can't take risks anymore and decided to call the bright sun to occur right now. She starts preparing for it and finally able to call it and starts to give a evil laugh with the feel of victory and satisfaction.
Precap – The family members died one after another. The jinn stabbed Rehaan and Shayari too. Aman gets stabbed and he lies down besides Roshni who has already died.