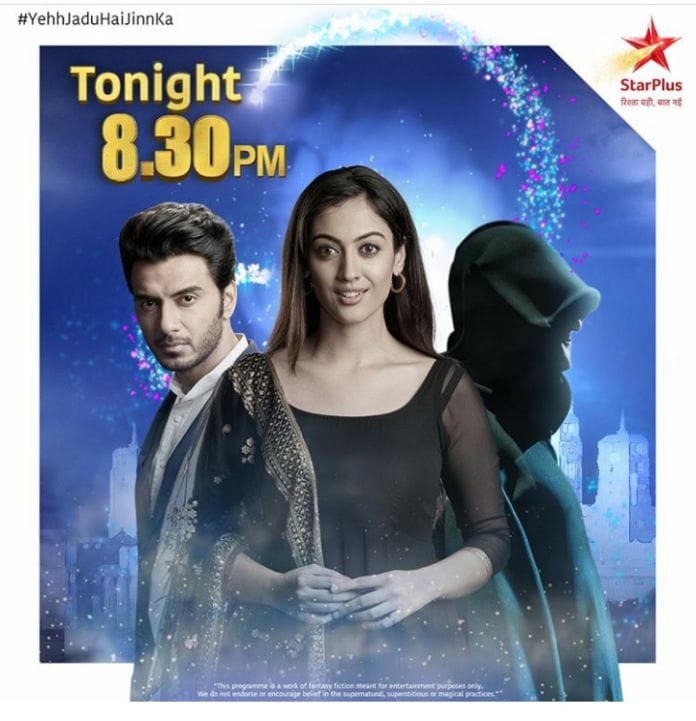 Yehh Jadu Hai Jinn Ka Upcoming Story, Spoilers, Latest Gossip , Future Story, Latest News and Upcoming Twist, on Justhowbiz.net
Episode starts with Aman is in the marriage dias with Roshni . However, seeing his care for Armaan she gets doubt and unveils the face. Roshni got to know about it. She gets angry on Aman and questions him about the magician. The magician comes on the front and accuses Aman for fraud and also says this doesn't suit you at all.
Aman comes and says in front of all that it is you who started all these. Aman and the magician are getting involved in physical war and Roshni stopped them. Roshni chained Aman and taped his face and goes ahead for the marriage and says to Aman that as you are the king of Jannath I was keeping your prestige but you are testing my patience now.
On the other side, Roshni goes ahead with the marriage rituals with magicians in front of Aman. Roshni and magician says qubool hai to each other in the presence of Qazi sahab. Aman witnesses the entire marriage function while qazi congratulate the newly wed couple together. The short jinn says the bottle is with me but to get it you have to kiss me.
Rehaan gets angry and made him unconscious. Roshni frees Aman after her marriage and goes ahead from there. Aman says to Roshni but you got cheated and the real magician is me and not this person. Aman reveals that the bodies were exchanged at the very first and that is why whom got married to you is just looks like a magician but not he himself and Aman is the one who got married to you in his body.
Aman reveals to Roshni that Armaan is the one who helped me and got me this idea so that is why when I couldn't stop this wedding, I swapped my bodies with magician. Roshni says but this is cheating, Aman says even you cheated me and got divorced from me by cheating. Roshni says that time I was only cheated but now and Roshni comes to the black jinn form.
However, Roshni gets free from black magic power and now she is back to Ayana and Rubina says the effect of black magic is over and now they can live happily together and can have a normal life together. Rubina comes home and says now Aman and Roshni can have a normal life.
Suddenly the pages of the Ilm-E-Jinn turns over and there is a message from Rubina in it that finally she is able to destroy Kaala jinn to settle scores which is years old. Rubina thinks now with the end of Kaala Jinn I have my path clear and will achieve my goal soon and no one in this universe can stop me anymore.
Precap – An unknown woman is after Aman and Roshni captured her but she ends up in his arms. Roshni gets shocked to see this and Aman is equally surprised.