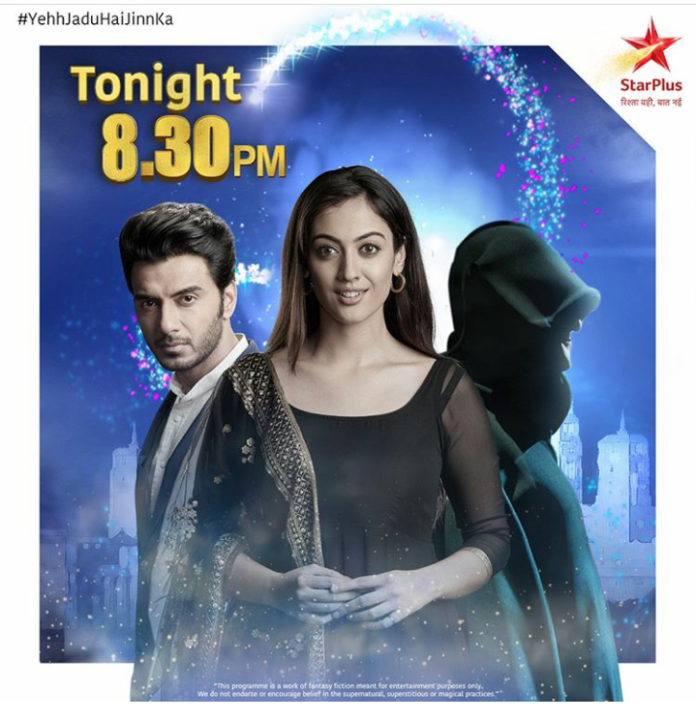 Yehh Jadu Hai Jinn Ka Upcoming Story, Spoilers, Latest Gossip , Future Story, Latest News and Upcoming Twist, on Justhowbiz.net
Episode begins with Roshni got angry to see Aman is holding someone else in his arms. She comes there and says she is the same girl who is in my dream and you are holding her and in the same way which I saw in my dream. Aman asks Roshni not to overreact and tries to know who is the woman? She says to admin why are you not able to recognise me when you have hold me so many times in your arms. Roshni is shocked to know all this when that girl revealed that I am your sword which you got by becoming the king of Jinn nath.
Aman doesn't understand how to cope up with this. She says to Aman actually I was feeling guilty because some time before you called me but I was not able to be present there. On the other side, Rehaan is confused about getting married to Natasha in spite of the fact then he has to do it to be back in his normal form but somehow his mind is not ready for that. On the other side, Natasha is planning to get married to Rehan so that she can destroy him and the family as well.
Aman and Roshni are not so ok with the decision of Rehaan gets married with Natasha and they are worried about the fact because he is engaged to Shayari. admin says to Rehaan that please think about this decision once again before going ahead. Rehan says even I don't want to get married but I have no other choice is left, in fact the guide of shayari also suggested this way only to get rid of this problem.
On the other hand, Rubina is after the sold of Aman which is in the form of human right now. She gets up from her sleep and understands that the danger she is feeling is from Rubina. She says to her that I will confess about it to Aman but before she can spill the beans to him, Rubina captures her inside a suitcase.
The marriage rituals of Rehaan and Natasha started. Natasha says qubool hai for Rehaan 3 times but Rehaan is somehow not convinced to say yes for the marriage. Even the housemates got to understand that Rehaan is not ready to get married yet.
He is about to say yes when Shayari comes there and breaks the bottle of magic on Rehan and Natasha both. She drags Rehaan to a side and says what made you think that every problem in this universe has only one solution that is getting married to Natasha for you? She also says when you have you could have consulted with the other persons for taking any decision. She says we people have such bottles with us in a bulk but this Natasha intentionally missguided you because she wants to get married with you so that she can destroy all of us.
Natasha creates a problem for the house people and Aman has to call for his sword. He sees Churi comes inside and becomes a sword in his hand. However later she reveals to him that I am becoming powerless and the person who is responsible for it is the one you believe in the most. However before Aman can understand anything she becomes is Road again because of lack of power. Rubina captures the powers of the sword inside a bottle and gives it to the red jinn. Rehaan says this means you are not a king of Jinn nath anymore.
Precap – Roshni informs Aman about any danger approaching them.