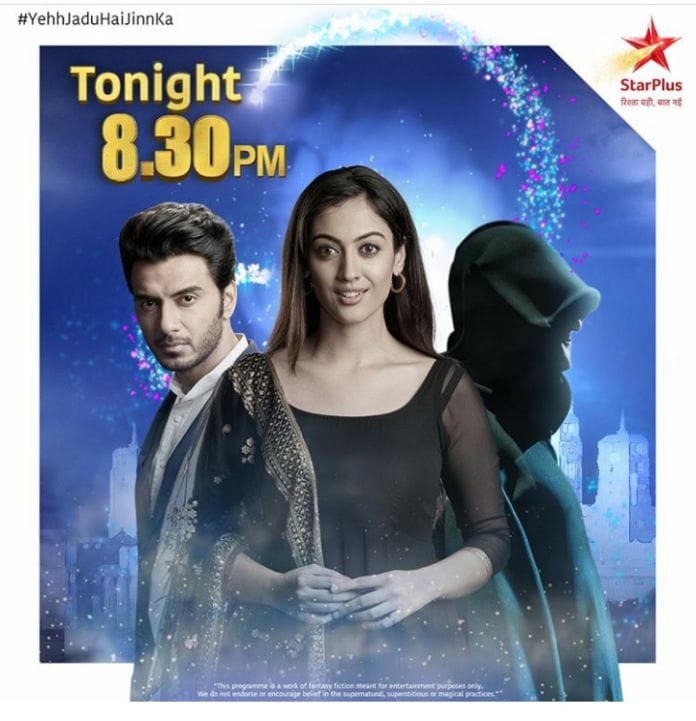 Yehh Jadu Hai Jinn Ka Upcoming Story, Spoilers, Latest Gossip , Future Story, Latest News and Upcoming Twist, on Justhowbiz.net
Episode begins with Roshni says to Aman something is not right somewhere. I am not able to digest the fact that your sold came to us in human form and then before saying anything it also gets destroyed in front of our eyes. She says that the person who stole the powers of your weapon must be the one who is after your position of the king of Jinn nath.
Aman says to her that he is not interested to know who did what and why? He is happy with her family and that's all matter. Black Jinn is destroyed forever and now we can live a healthy life because if Aman has no powers then he will not have to face any other powerful powers in his life. Aman drags her close and says to Roshni that now my responsibility will be take care of you and my son Armaan. He says to Roshni that even if anything happens then we will still have your powers and that is going to save us from any danger.
Rubina on the other hand converted the normal sword into the royal one by giving it all the powers that a king of jinnat holds. As soon as red jinn got the powers from Rubina, he refused to help Rubina find out the heart. He says that I have no idea about your heart I just said that in a jiffy just to convince you to help me out.
Rubina gets angry and she says that I have your biggest weakness with me and brings out the water of violet falls. Before he can react to it Rubina splashes the water on him and also stabs him with the sword. She thinks in her mind what if she doesn't have her heart right now, she has the weapon of Aman which can be helpful to her in many ways.
Rubina calls for the sword and asks it to help her in finding out the heart of her and at the same time Roshni comes inside the house of Rubina and gets surprised to find about the loopholes in the house. at the same time Rubina is following new weapon to know in which direction to go so that she can find the heart of Ayana. Rubina gets to know that the heart belongs to Roshni now and she tries to kill him. Before she can do anything the main Ayanas come there and tells her as she was made of stone that time and they can not affor the conversion of that heart to null hence they gave the heart to Roshni.
Rubina tries go defend herself and says to them Roshni is also someone who does a lot of mistakes and has some bad intentions in life. The heads of the family promise if they are able to prove that Roshni is guilty then they will handover the hard back to Rubina but she has to prove it before the night of brightest sun. Roshni gets up from her unconscious state and doesn't understand what is happening to her. She is trying to recall the events and leaves from the house of Rubina with a doubtful mind. Roshni shares everything with Rehan and Shayari.
Rehan sister Roshni that he has full belief in her instincts and he will try his best to find out the truth and also will try to protect the family members if any situation occurs. They are going out to find out about the matter of Aman and his weapon when they meet Rubina outside of the house. Shayari and Rehan get surprised with the behaviour of Rubina but chooses to ignore. Rubina thinks before they will get to know anything she will bw successful in her works.
Precap – Roshni informs him about any upcoming danger.