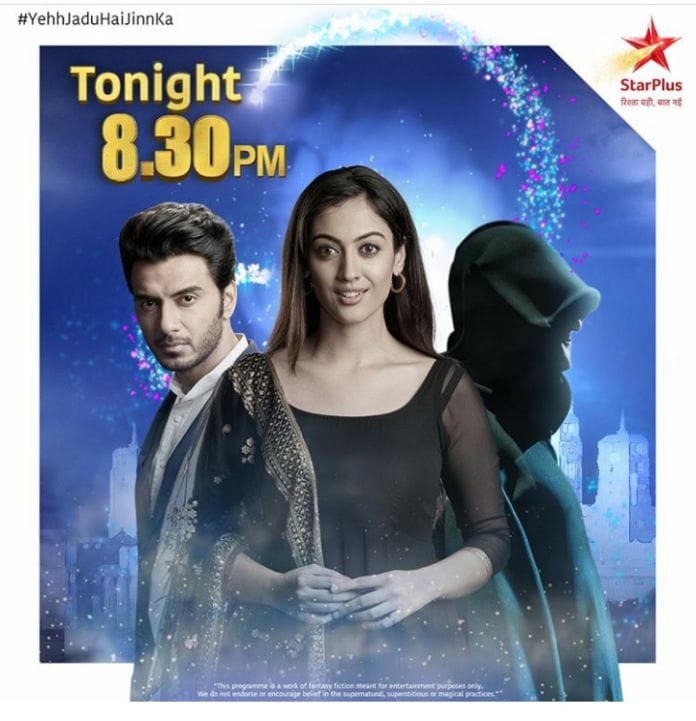 Yehh Jadu Hai Jinn Ka Upcoming Story, Spoilers, Latest Gossip , Future Story, Latest News and Upcoming Twist, on Justhowbiz.net
Episode begins with Rubina comes near a plant in the garden and keeps a small box and does something and slowly it is changing into something. Roshni is talking to Farha over the phone call and is shocked to see an strange creature outside the house and the wall is burnt also. She comes inside the house and informs Aman about it.
While the entire trap is set by Rubina to prove Roshni is not worthy of the pure heart and she will be able to get her heart. Roshni and Aman are trying to look for anything odd inside the house only. Saima comes inside the room to give milk to Armaan milk and she gets shocked to see an dangerous and odd creature near Armaan and she falls there. Aman and Roshni notices a different kind of sign at the bed of Armaan. Aman goes near the pool area to check about the animal.
Aman notices the animal and it is continuously extracting fire. As soon as Aman is about to attack, it goes vanished and comes in front of Roshni and other housemates. Before the animal can attack them Aman captures it inside the cell. Shayari and Rehaan are going out for their hunting and Rehaan refuses to listen to the guide of Shayari and they are arguing over it when Shayari gets a call from Roshni about it.
Rubina provokes Roshni to attack the jinn and kills it but Shayari stops her and says the sign on her hand and says it's a Shola Jinn and there is no need to get scared of them as they don't cause harm to anyone. Roshni and Aman says to her she is inside out house and is extracting fire from her mouth continuously. Shayari says that can have only one reason that is these kind of jinn have so much of wealths with them and if those get misplaced then only they gets into attacking mode.
Roshni and Aman decided to give her back her wealth while Rubina gets angry that her plan is almost going to ruin. Aman and his entire family brought so many jewelleries for Shola Jinn but she refuses to take those and also goes back to the form of animal and extracts fire from her mouth and ruins all the ornaments. Roshni and Aman says instead of exracting the fire from your mouth, you could have tell us what is your problem then only we will able to help you out about it.
However, Shola jinn is still keeping silence over it. Roshni tries to talk to her in normal way and in polite manner and asks her about it. She smiles looking at Baby who is holding one necklace. Baby says I won't give you this because this was given to me by my father and I will not give it to you because eyeing over someone else stuff is wrong. Before she can complete Shola made her an egg. Roshni and Aman ask her what is your problem? What you did and why? Roshni is feeling disturbed about the whole thing.

Precap – Shola is about to attack Roshni but she goes down and Sara gets the heat and transforms into egg. Roshni gets sad to see this.