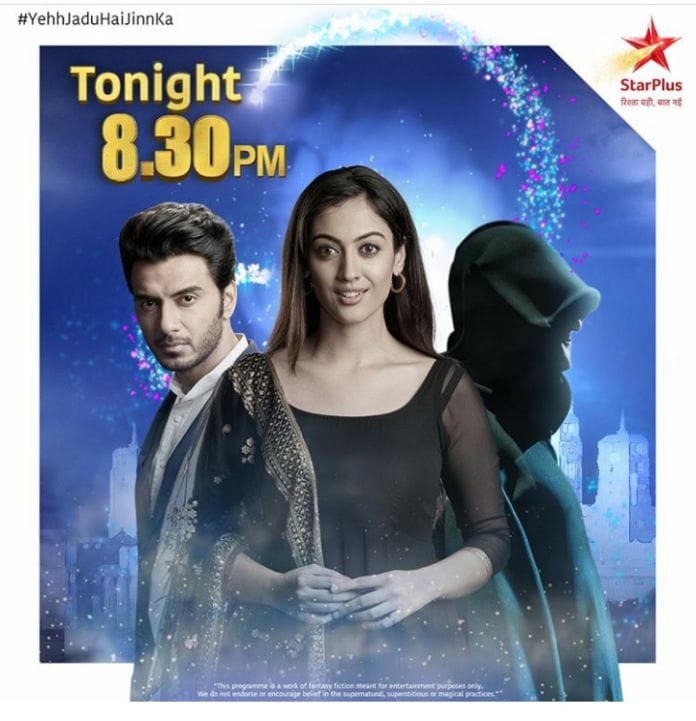 Yehh Jadu Hai Jinn Ka Upcoming Story, Spoilers, Latest Gossip, Future Story, Latest News and Upcoming Twist, on Justhowbiz.net
Episode starts with Roshni attacks Shola with her clips but then only Armaan begins to cry and Roshni understands finally that Shola jinn is looking for her kid. She says to Aman my Ayana instincts are saying this and I have to help her and I know I am right. Roshni is helping Shola jinn for finding out her baby. She uses her powers to help Shola Jinn and also helps her to find her baby. Aman also joins her in this mission. While doing this the black smoke gets inhaled by Roshni but she doesn't stop.
Finally they are able to rescue the baby of Shola jinn and she gets happy. Roshni faints on the ground and Aman took her inside while Rubina is getting hell of angry to see her plan is failing badly. However, later on Roshni was taken inside by Aman and he is asking her grandmother why Roshni is not waking up and her body is getting cold. Shola jinn comes there and tries to make her body warm with her fire.
Anjum says she is Ayana and this much warm is not enough for her. Aman uses his magic to bring sunlights. Roshni gets fine and wakes up. Rehaan and Shayari ends up in Junaid palace following the star and gets shocked to know the sword is occupied by some housemate only. They saw Natasha in their garden and decided to follow her to know if the sword is with her or not?
Roshni recovers and gets up and asks Shola jinn about her baby and all. Shola jinn is happy to get her baby back and she recovers Sara, Saima and Baby from the egg state too. Aman apologizes to her for not able to understand her plea and misjudged her. Shola jinn smiles and takes leave from there. Rubina comes there with an arrow and hurts Shola jinn with it and frames Roshni using a part of her clip which she takes from her using her powers.
However out of the three angels, one angel is convinced with her words but the other two are not. They say we know you are desperate to get the heart back and for that you can frame her wrongly too and manipulate the situation. They gave a test to Rubina and says if you are able to prove via this test that Roshni is not capable of her angel heart then we will agree with you or else you will lose the chance forever. Roshni feels something uneasy and she says to Anjum that she is feeling something is wrong with Shola Jinn. Shayari is trying to locate Natasha and she almost notices Rubina is talking to her in a corner of the market and they are planning something and leaves from there together after having a chat with each other.
Precap – Aman gets shocked to see Rubina is with Natasha in the hospital.