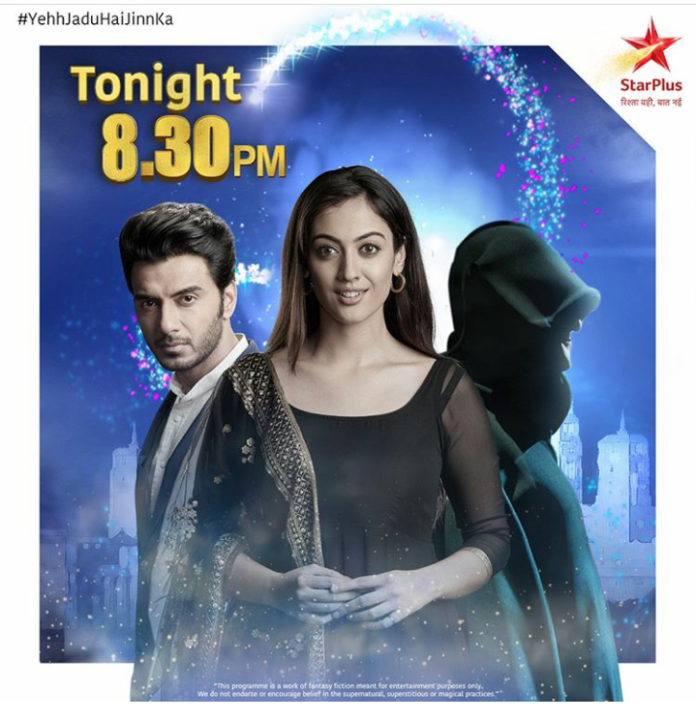 Yehh Jadu Hai Jinn Ka Upcoming Story, Spoilers, Latest Gossip , Future Story, Latest News and Upcoming Twist, on Justhowbiz.net
Episode starts with water baby jinn comes in front of the housemates and says you all can't stop me from getting the fourth power. Rubina asks Roshni and Aman to take away Armaan far from here as water jinn can not be alive without water for more time. Water jinn is asking for water and is looking for it in the whole house. Shayari and Rehaan are trying to hold Kiki who is denying to know Shayari and is trying to escape saying Kaala jinn will come here now.
Water jinn gets a drop of water and is taking away Armaan far away from that place. She says I have so much power to bring the door of hell of the Jinn land. But I will go away from that place the way I came in. Roshni stops her from going on with Armaan and says I accept my defeat from you. She says to the entire family that we lost our powers so even in this situation we will not be able to do anything. She asks water jinn to give her some time so that she can arranges for a feast.
Water jinn captures Armaan in her own magic shell and says he will be with me. Roshni arranges for a feast saying that I want to celebrate the birthday of my son atleast once as a memory. She arranges for huge items and says I have a plan for water jinn basically. She is a fish and fish if starts to eat once then can not get stopped at all. She will also do the same so we have to make her eat things.
Roshni gets a birthday cake for water jinn and feeds her forcefully saying you can not say no for this. She denies to eat anything further saying I can not commit such a mistake. Shayari is trying hard to hold Kiki but he goes vanished from the cave using his powers. Shayari feels dejected cause only he can help her out to close the door of the hell of jinn land.
Rehaan says to her we should go back to our house cause may be we are needed there more rather than staying in this cave. They are about to leave when they saw a little child is there and is crying and Shayari gets concerned. Rubina, Aman and Roshni are thinking how to make the water jinn eat something so that she can go in the food coma while Roshni looks at Armaan.
Precap – Waterr jinn announces as Armaan killed Kaala jinn so now he will be the next kaala jinn. He will be back later when he will be a kaala jinn completely.