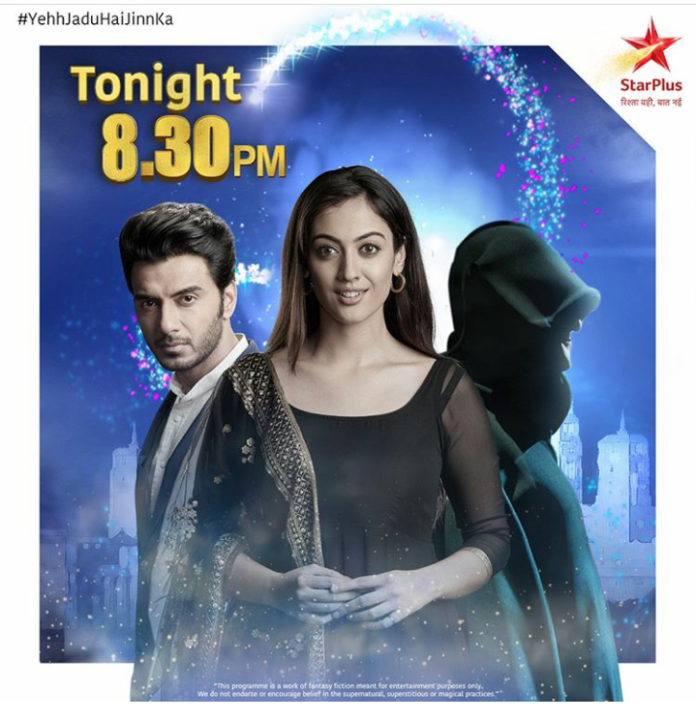 Yehh Jadu Hai Jinn Ka Upcoming Story, Spoilers, Latest Gossip , Future Story, Latest News and Upcoming Twist, on Justhowbiz.net

Episode begins with Aman asked Roshni to sit and have food and the moment she starts like always Roshni is munching in the food items. Water jinn asks Roshni you ate up all the things all alone? Aman says she is like this always and Roshni says it tastes awesome. Aman then goes to bring noodles for Roshni but water jinn says that I will eat these noodles. She starts to eat and couldn't stop eating from and items.
.Aman and Roshni gets relieved to see their plan is working finally. They start to insists her for eating and water jinn realised when the food items are over that she did a mistake by consuming all the food items. Roshni and Aman gets relieved that now they can get their power back and also Armaan. Water jinn faints and sleeps on a sofa when Roshni comes and takes away the bracelet with a pearl from her hand to get back their powers.
However, baby who is busy eating food and cold drinks even in such a critical situation keeps the cold drink bottle on table and due to being cold it generates a lot of water droplets and one of the droplets fall on the floor without their notice and helps water jinn to regain her sense and powers. She takes away the pearl from Roshni using her magic and says your game is over. I gave you all 15 minutes time and now it's over. She brings the door of hell using a pearl and also takes Armaan in his hand when Aman asks her if you want I will come with you but please leave Armaan alone.
. Roshni asks her why would you want to kill him? She says who told you I will kill him. As per the rules, the one who kills the kaala jinn claims his place. Since Armaan killed kaala jinn now he will return as next Kaala jinn so see your son for one last time. Aman and Roshni gets stunned to hear this but they want to stop her but she is using her powers on Aman and Roshni.
.Suddenly, she was stopped by none other than Shayari with her rope to catch jinn and Rehaan comes there with that little kid Jhumroo. He says does she open the door using a pearl? He says look for the pearl while I will find out the key from the bunch. Water jinn attacks on Shayari too and starts to proceed towards the door but Aman gets the pearl with the help of Anjum and gives it to Jhumroo and he catches it. He Locks the door and water jinn gets destroyed on the spot and Armaan is rescued finally and Roshni takes him up in her arms.
Jhumroo asks them to keep their hand on the pearl now so that they will get back their powers. Shayari and Rehaan elaborated to them about the entire story of getting Jhumroo and Kiki. Jhumroo says to them I don't know about my real identity cause my parents sold me to Kaala Jinn in exchange of a huge amount of money so from that time I am staying with Kiki ustaad.
Aman gets emotional after listening to his words and Roshni and Anjum tries to console him. Roshni says to Jhumroo from now on you are also a part of our family and you will stay with us here and Jhumroo gets happy and hugs Roshni. Shayari notices there is something unusual about the behavior of Rehaan.
Precap – Tabeezi informs Aman and Roshni about another danger.