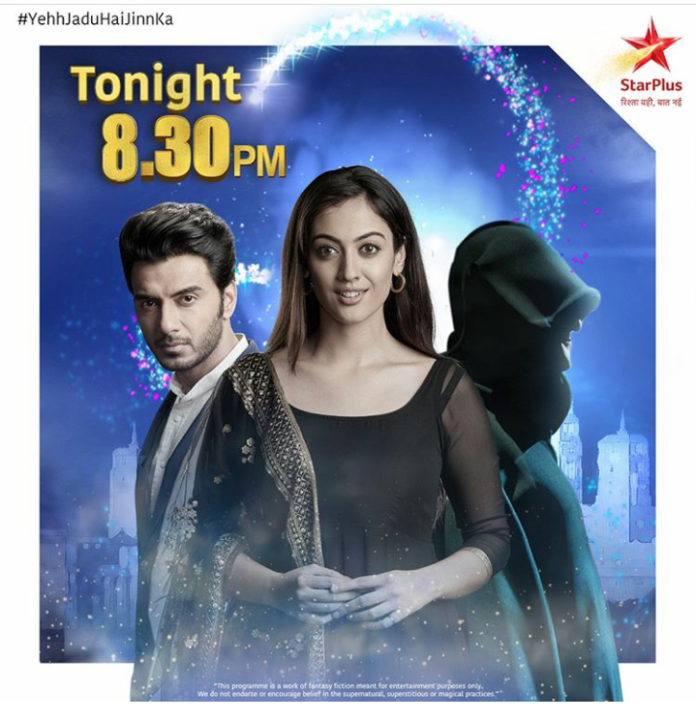 Yehh Jadu Hai Jinn Ka Upcoming Story, Spoilers, Latest Gossip , Future Story, Latest News and Upcoming Twist, on Justhowbiz.net
Episode begins with Aman and Roshni bringing Jhunru in his new room and he gets shocked to see everything. He asks Aman is these stuff and the room belongs to him only? Aman says yes and tells him even the cupboard, dresses and everything else also is his and Jhumru gets happy and excited to see all these and he is enjoying the new things.
Aman and Roshni are getting happy to see Jhumru happy and he uses his magic to bring so many clothes and dresses for him too. He tries to get into the bed but the bed slights away a little. Aman and Roshni come there and ask Jhumru if he is doing fine or not? Roshni thinks how the bed slights away on its own? She suddenly noticed Armaan is doing magic just to pull the leg of Jhumru. Jhumru asks Aman and Roshni if he can call them uncle and aunty?
Aman and Roshni agrees wholeheartedly and Aman stays back with Jhumru because he is not habituated to loneliness and without someone by his side, he can't sleep. Shayari and Rehaan notices everything from outside and while Shayari gets happy to see this, Rehaan is irritated that Jhumru is going to stay with them. He says I don't believe him at all, moreover he is being too friendly and touchy with Aman and Roshni from the very first day. Shayari says he is just a kid and how come Rehaan is not liking a kid ?
Rehaan says I find them irritating enough and moreover we don't know anything about him. Shayari says he is so innocent and cute and you are doubting him? Rehaan says yes of course but you know what that is odd. She says you know what is odd? Having a moustache like a lion while having a face like a wolf and she angrily walks out. Rehaan says is she any less that we bring another kid in the house?? Next morning,
Jhumru is making a painting while Aman is watching him and praising him for the painting. Jhumru gets excited when Aman does magic on his painting and he goes to hang his painting outside of his room. At the same time, Roshni is coming towards the same direction and suddenly Armaan starts to do magic and a ball hits the tool of Jhumru and he falls down. This time Aman and Roshni both are able to see that it's Armaan who tried to harm him.
Jhumru says Armaan maybe is not liking me and that is why he is doing all these to convey his anger. He says now you will throw me out of this house right? Roshni makes Jhumroo understand you are a part of our family and we will not let go off you. Roshni expresses her concern over the activities of Armaan. She fears if he really is turning out to be a Kaala Jinn? Rubina comes there and informs as per Ilm-E-Jinn the night of the new Kaala Jinn inauguration will happen soon and since Armaan is going to be the next Kaala jinn we will keep getting signs.
.Later Jhunru made a thank you card for Aman and Roshni but Rehaan tried to mock him for his bad english and wrong fonts. Shayari appreciates him and asks him to give it to Roshnia and Aman. She says to Rehaan he is just a kid and you are being mean to him unnecessarily. When Jhumru comes into the room of Aman and Roshni he hears about Kaala jinn from Rubina and gets scared.
Suddenly Aman and Roshni heard noises of so any wild animals and they wenr down after asking Jhuru to be with Armaan and not to go out of this room. Aman gets his magic wand along with Rehaan, Roshni but before they can apply any magic the wild animals who came to meet new Kaala jinn are all gone from there. Jhumru is getting scared in the room as things are falling and the room is almost shaking.
Precap – Aman finds his room destroyed. Jhumru and Armaan both are in the room with closed eyes while Jhumru is lying on the floor unconscious..