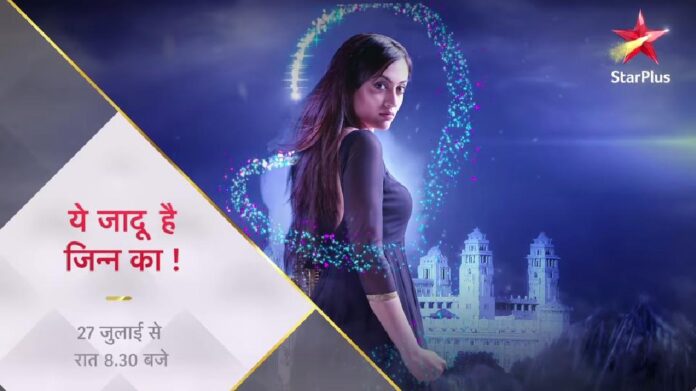 Yehh Jadu Hai Jinn Ka Upcoming Story, Spoilers, Latest Gossip , Future Story, Latest News and Upcoming Twist, on Justhowbiz.net
Episode begins with Roshni going inside a cave and she chants the saying of "Marqab marqab sawi sawa". The Jinnath comes out and she says I want my husband back right now. The Jinnath strikes a deal with Roshni that in return off Aman's life she has to give him their first child. The story goes back to 24 hours earlier where Roshni is sleeping in her room. She wakes up and finds Aman missing. She comes down and notices he is standing and watching the clock without a blink. Roshni complaints that you never paid so much attention to me, the much you are paying to the clock right now. Aman says today is the 9th night and I don't want to lose you at all.
Roshni assures him she believes him with full trust and she knows she is in safe hands and says I want to see sunrise. Aman takes Roshni on a hot air balloon ride to make her see the sunrise and Roshni enjoys every bit of the ride and they both are spending some quality time with each other. Later on, Tabeezi is finding out that today's full moon night is going to be difficult to survive. Salma is getting scared to hear that. Everyone in the house is getting scared and somehow is trying to ignore the obvious danger through their household chores.
Aman is the most worried person, dadi asks him to calm down as Roshni will be fine and none of the family members will let anything happen to her. Later on, he goes to call Tabeezi but he notices Roshni is descending the stairs and is giving him flying kisses and winks at him. He starts to get shy and blushed at her antics while Roshni is being her usual cute self. Later on in the day, Aman is watching the moon and is thinking about tonight evening 7:07pm. He says I will surely let nothing happen to Roshni when.
Tabeezi gives him a dress to give Roshni to wear and says it will protect her from every danger. In the evening, all the family members gather together to protect Roshni when suddenly they notice that the clock is striking close slowly. Suddenly Roshni gets scared as if she is hurt by anything but before anything Aman realised she is perfectly fine and fit and the sound occured due to Baby. Aman goes out of the house while all of them decides to open the windows of the house. Aman notices his grandmother is lying on the ground and the moon is having a black circle over it. He sensed ghe danger and decides to have a check on Roshni.
Roshni is also seeing an unconscious dadi inside but before she can react she realises she is glued to her place. Aman applies his magic on dadi thinking it must be an imposter when the real traitor comes inside the house who is a red moon army and attacks on Roshni with an arrow but she says she is fine and that arrow couldn't kill her. While the army again throws an arrow at Roshni but this time Aman takes it on himself.
Precap – Roshni vows to bring back the life of her husband Aman, even from death.