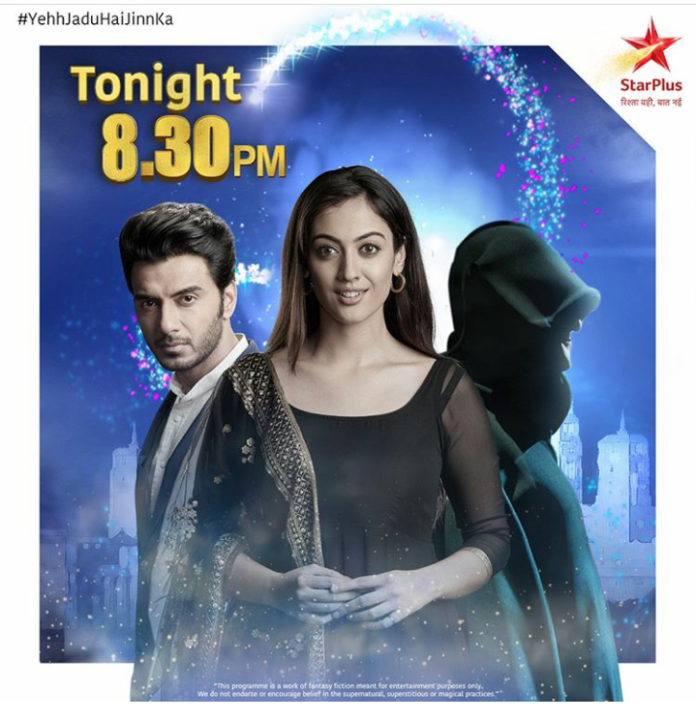 Yehh Jadu Hai Jinn Ka Upcoming Story, Spoilers, Latest Gossip , Future Story, Latest News and Upcoming Twist, on Justhowbiz.net
Episode begins with Roshni feeling unwell and she notices that her clips are turned into black smoke and dissolved in the air. Rubina comes there and Aman is about to recognise her but before he can say anything she asks him to take some rest as he must be exhausted. the gates sound off shayari from outside and Rubina thinks that it must be Natasha in the form of Shayari who is trying to help her out. Natasha is trying to frame shayari for entering the house in a wrong way taking advantage of the body swapping but before she can do anything Rehan comes there with the liquid and swaps back the body of Natasha and Shayari.
Shayari says to the housemates about Natasha being a mere pawn in the game of someone they rely on so much. The family members got worried and said they want to know who is doing all these ? Shayari says that you people may not have trust on my words but it is none other than Rubina. Anjum defended Rubina but Roshni says that we should think about it with a calm mind. They realise Aman and Rubina and not present with them and Roshni goes inside to look for Aman.
Rubina says that she gives a juice to among so that he can take rest for sometime. Roshni se about to wake up a man but he signs to her to keep calm. Once Rubina leaves the room I want says to them that Rubina is the one who made him kachra jinn. They think that they need to do something to know why Rubina is doing all of this and why suddenly she changed into their enemies from being a friend always. Shayari gets to know about the future planning of Rubina being Natasha and she informs the same to Aman and Roshni.
Aman says we have very short time to save Roshni from the planning of Rubina and has to find a solution. He goes to the house of Rubina to look for his sword. He doesn't get it there even after searching a lot along with Roshni. While the housemates are trying to hold back Rubina in Junaid Manzil so that she doesn't go out and find out about Aman being in her house. They are trying to engage her in the talks of marriage between Shayari and Rehaan.
Later Aman and Roshni notices that Rubina hides the sword in her Ilm-E-Jinn book and Aman tries to take it from there using his magic. Roshni and Aman come back home and are talking to Shayari and Rehaan. She says she is not feeling good and somehow she has an instinct of getting trapped badly in a plan themselves. She is talking only when she is dragged suddenly and caught under a box. Aman gets shocked and tries to free her from there.
Precap – Roshni and Aman gets to know about the motive of Rubina from herself .