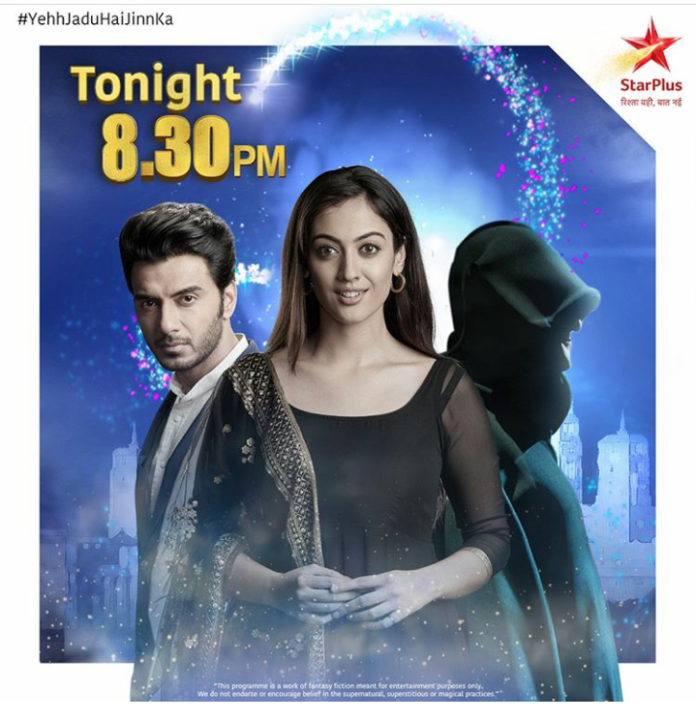 Yehh Jadu Hai Jinn Ka Upcoming Story, Spoilers, Latest Gossip , Future Story, Latest News and Upcoming Twist, on Justhowbiz.net
Episode begins with Shayari says I have never seen such weird animals in my life. Aman calls for Baazigar and Roshni, Rehaan and Shayari also gets ready to fight against those animals. However, the animals have changed into black smoke and the housemates are unable to see each other. Roshni says no black smoke can stop an Ayana. She ends the smoke and runs towards their room.
On the other hand, Jhumru comes near Armaan and says don't worry baby I will not let anything happened to you and suddenly his facial expressions changed and he says to Armaan I want to be the next Kaala Jinn not you because that's what I want and starts to laugh in a dangerous way.
Jhumru and Armaan are inside the room when Jhumru says all are thinking your bad side is getting more highlighted than your good side and your own famliy members are going to help me out in this. Roshni and Aman notices a wall of black smoke is also gathered outside their room and they are unable to apply their magic on it. However, all the housemates are coming together and hold each other hands.
 Anjum like always says the same lines of being together with all so that they get the inner courage to fight against all the odds. Roshni again tries with her magic and this time she gets successful and they all entered the room to find out Armaan is inside with open eyes and Jhumru is lying on the floor.
All of them think that it's Armaan who did all these and Jhumru also manipulate the entire scenario in his favour and Aman and Roshni get upset to think that what could be done to completely demolish the bad sides of Armaan. They are discussing the matter when Rehaan says all these have started the moment Jhumru came inside the house, I am having doubt on his intentions but Shayari is not ready to listen to him and others as well.
 While Jhumru can hear them sitting outside of the house and is getting happy to see his plan is working. Rubina tries to see if Ilm-E-Jinn can help in reducing the negativity of Armaan but Jhumru manipulated it too using his powers and Roshni wrapped a towel they get from the book to save Armaan whereas that is exactly causing him troubles for sleeping.
 At night, Roshni finds it difficult to put Armaan to sleep and she is somehow not at all convinced with the new towel thing and shares the same with Aman. He asks her not to worry much and goes to library. Jhumru comes in the room as Kaala jinn attire and is going to hold Armaan but Roshni who dozed off wakes up and gets shocked to see Jhumru there and she says I will put you both to sleep. On the other hand, Rehaan and Shayari are trying to find out the family of Jhumru.
Precap – Aman informs Jhumru they traced his parents. Jhumru gets angry and disappointed to hear this.