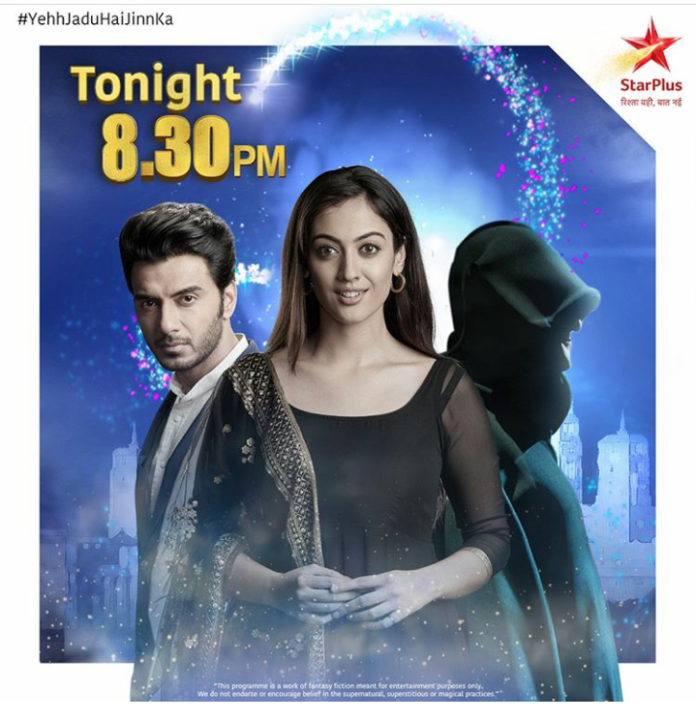 Yehh Jadu Hai Jinn Ka Upcoming Story, Spoilers, Latest Gossip, Future Story, Latest News and Upcoming Twist, on Justhowbiz.net
The episode begins with Roshni says to Aman she doesn't know it's her instinct or anything else but she is sure about something that is this towel is not good for Armaan and she is not able to explain it to him but it's her Ayana sense which is not allowing her to wrap him in this towel.  Later, Rubina arranges the abbe-e-Hayat water for Armaan to take a bath inside the water then he will be free from all the bad effects. Jhumru does some magic in the water so that his plan doesn't get spoiled.
 Aman is going to make Armaan dip in the water but stops. The water ball rises above the water and burst on Jhumru making an impression like Armaan is doing it all. Aman and Roshni are in the room and Aman says I don't know but is it possible that Armaan is involved in whatever happened outside? Roshni asks him why are you saying this about him? Aman says all of us know that Armaan is going to be the next Kaala jinn. Hence we shouldn't overlook these things.
Aman asks Roshni to take some rest as she must be tired. Roshni is crying holding Armaan close to her when she notices Jhumru's reflection in the mirror and gets surprised. She turns around and found no one and then Roshni again looks at the mirror but she gets a huge doubt about Jhumru. Rehaan is going to finding out the house of Jhumru and Shayari says to him that she also wants to come along.
Both Rehaan and Shayari reached the place and she decided to go forward to check if there is anyone in the house. Rehaan asks someone about the house and he says it's been ages that no one is staying here but people say that jins are used to stay here.
Rehaan and Shayari are going to enter the house. Aman is looking for Jhumru and finds him in the garden area and informs that soon his family and parents will find out as Rehaan and Shayari went to find out about them. Jhumru gets upset and angry to hear this!!!
The moment Shayari is going to enter the house of Jhumru suddenly there is a huge blast occurred at his house and Rehaan stands covering Shayari. Aman is giving him assurance that everything will b2 fine and we will find out your house soon when he receives a call from Shayari. Shayari informs him that they are unable to find out about his parents.
 She narrates the entire incident to Aman while Jugnu gets happy as he already knows they are unable to find out about his parents. Aman listens to her over the call and gets disappointed but assures Jhumru that soon his parents will be found out. Shayari and Rehaan are waiting outside for fire to lay down so that they can enter the house.
Precap – Roshni says to all the family members that Jhumru is the one who wants to become a black jinn replacing Armaan from his way.