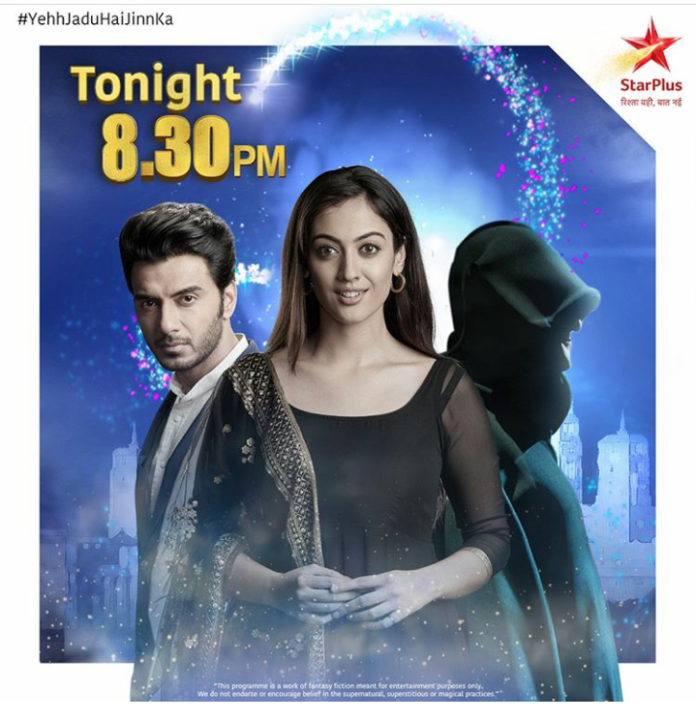 Yehh Jadu Hai Jinn Ka Upcoming Story, Spoilers, Latest Gossip, Future Story, Latest News and Upcoming Twist, on Justhowbiz.net
Episode begins with Aman said to Roshni he wants to adapt Jhumru legally. Roshni says isn't it too odd that this happened exactly when Rehaan and Shayari are going to enter the house. Don't you think it's all are too coincidental but Aman is too emotionally attached to Jhumru that he doesn't want to see any negative things. He says the only negative thing is Armaan is going to be the next black jinn.
Jhumru is listening to their words from outside of the window by doubling his height almost. Rehaan and Shayari entered the burnt house of Jhumru and Rehaan gets a photo frame from the house and tries to clean it and come out of the house.
Jhumru comes to Armaan and says that your family is going to adapt me. Do you know what that means? The moment they will make my name attached to this family, I will destroy your very existence. He says however this is not going to be easy the way it is coming across.
Moreover I feel Roshni got a doubt on me and she can expose me any time but before that I have to do something drastic to stop her. He locates her phone around and takes it in his hand and calls someone. After sometime, some people came there from an orphanage asking about any kid that they got some days ago. They says as per rule you have to give him to me because in our centre his upbringing will be done properly.
However if you don't corporate with us then we have to involve police officers. They says they got a call from this house and took the name of Roshni Khan. Roshni says to Aman I didn't call them and you know I won't take such a big decision without your permission. Aman says he is aware about the fact but now those officials are here so what can be done?
Aman prepares for the legal papers to be ready as soon as possible for adoption. On the other side, Rehaan after a long trials and efforts finay is able to clean the picture frame with the help of Shayari and they discovered a photo frame of 1921 years which has Jhumru in it. Rehaan gets shocked that Jhumru used to exists in the year of 1921 as well and Shayari concludes it can mean only one thing that Jhumru is not a kid.
Tabeezi comes to Roshni and says I have checked everything and comes to know that Armaan is so powerful to get defeated by anyone. Only someone from his family can defeat him. Suddenly it striked Roshni that if Jhumru becomes the official member of this family then he will be a opponent of Armaan. She runs to stop Aman from signing the paper but before she can reach he has already signed the papers and Roshni says to him by signing this paper you made Jhumru a part of this family, now he can attack on Armaan easily as he wants to become the next kaala jinn.
This is his intention only. Jhumru comes and admits whatever Roshni is saying is true but she got a little bit late in knowing this. He says theh made his work so easy and he is third generation of Lal jinn family and from past 100 years he is doing all the look after lf Black jinn and now that he is no more then he deserves to be the next black jinn and not Armaan. He says Aman and Roshni can't defeat him as their magic won't work on him. He says also Rehaan and Shayari are going to be trapped as well for doing extra detectivity about me.
Precap – Roshni got tricked to think Aman is injured. Aman and Roshni runs to look after Armaan.