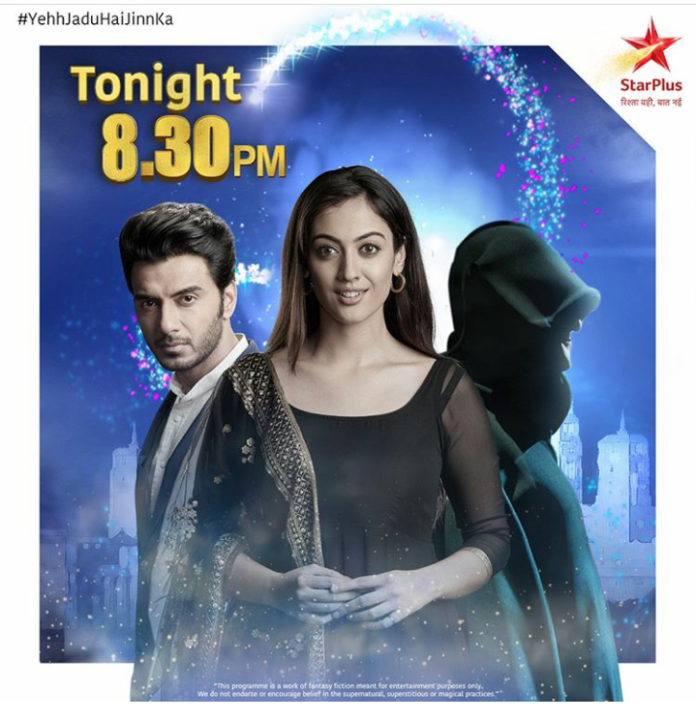 Yehh Jadu Hai Jinn Ka Upcoming Story, Spoilers, Latest Gossip , Future Story, Latest News and Upcoming Twist, on Justhowbiz.net
Episode begins with Roshni is reading story for Armaan and is saying him about jinn. Roshni is telling them stories about Jinn and says to him do you know I steal something from your uncle Rehaan. She is going to show Armaan the magic wand of Rehaan but she gets scared after seeing the red spider and throws the box on the floor and takes Armaan in her arms. Rehaan is looking for the red stain in the room of Roshni but he doesn't find the stain anywhere. Roshni goes to confront Rubina and asks her why did she send red spiders in their house? Rubina says as Aman is captured in the world of mirrors and with you I have already made a promise of blood with you so I am save and secured at this point of time and only a jinn can call red spiders and I am an Ayana and not a jinn.
once Roshni leaves from the house of Rubina after promising her that I will definitely find out about who is the target of red spiders and why they are in their house? Natasha comes out from behind and says to Rubina that you really do good acting. Tabeezi says but where did I lie? I said I didn't send those spiders and you send them only. Rubina says after Aman if anyone is my enemy then it is only Armaan and these red spiders will easily abolishes him from my way.
Roshni and Rehaan differently planning to abolish the re spiders from their house without letting know the other because they both don't want to break promises. Roshni thinks that it is Rehaan who is on target of Rubina and Rehaan thinks it's Roshni who's going to becomes a victim of the game by Rubina. Both of them notices a huge number of spiders in their house and they are trying to eliminate them at any cost. Rehaan is not finding his magic wand and he is upset about it but the other housemates are trying to eliminate those spiders with the help of sprays, brooms and sticks but nothing is working on them.
Roshni teams up with baby to do the work and the rest of the family members are with Rehaan while Shayari is out to look for Natasha and she is sure that it is Natasha who did this to them. However during the process of stoping those creatures Roshni and Rehaan eventually comes in front of each other and couldn't understand how to face the other person. Finally both confronts and confesses about their own agendas and able to find out that it is Armaan who is at their target.
However, Rehaan magic is now working on them but himself as the wand falls on the Ilm-E-Jinn and Aman also hints them to take help from the book. Roshni finds out a way to change the directions of them but couldn't do that with the help of the Ilm-E-Jinn book. Later she decides to confront the queen marqab directly and she approaches towards Armaan with her army.
Precap – Roshni challenges Rubina and says if you have your immense hatred then I have my endless love.#