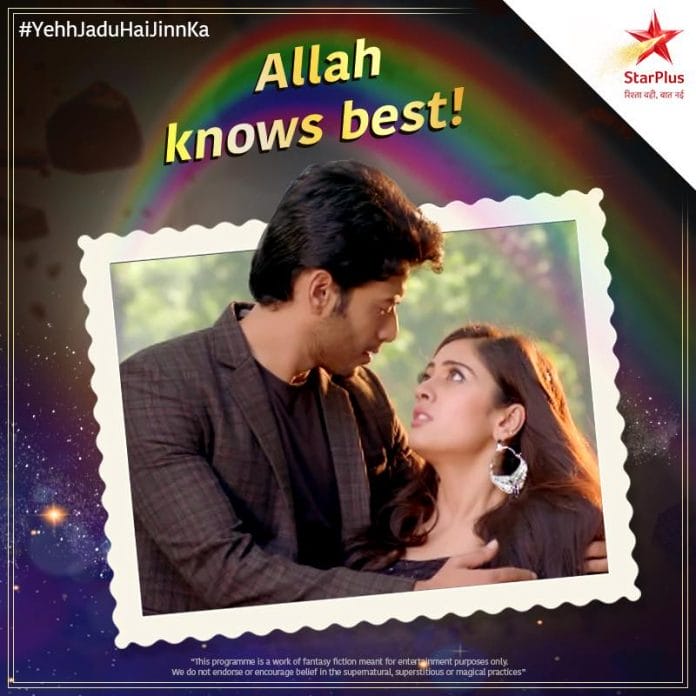 In today's episode, viewers will witness Aman confessing that he is under Jinn's shadow to Roshni.
Aman asks Parveen why is she doing it. Parveen says she knows Roshni is not Aayana. Aman stops Parveen's decision to keep Adaa in the same home. Rakh Jinn takes advantage of their discussion and gets in hiding with Chal Kuan painting. 
She tries to hang the painting in Aman's room but he protected it and she is unable to. Roshni comes inside so she silently slips out from behind the door. Roshni feels there is someone but can't see anyone behind her.  
Roshni is crying in her room when Adaa comes and says that Aman and her were in love with each other and Roshni has come in between. She says that Aman will never love her. This breaks Roshni's heart. 
Here, Dadi and Parveen have an argument regarding Aayana. Parveen is confident that Adaa is Aayana whereas Dadi is convinced that Roshni is Aayana. Parveen says, Adaa will stay in Aman's life while Dadi says Roshni is going to save his life. Dadi says how can she try to bring a second wife in his son's life. She who knows the pain of second wife so well. Aman says she is getting it all wrong. Parveen leaves, Aman was going behind her but Dadi stopped him. 
Aman is going towards his room when Rakh Jinn runs from his back. Aman turns back and couldn't find anyone. He goes to his room when Roshni says she knows he can never accept her but why is she here then. She adds that he and Adaa are girlfriend boyfriend and that he wanted to marry Adaa. Aman says, they were having arranged marriage and that he was never in love with Adaa. Roshni insists to know the reason why she is in his house. Aman confesses that he is under Jinn's shadow and she is there to protect his family from him. Roshni promises him to help. 
Next morning, Roshni blabbers in sleep how she is a great warrior and fell from bed. Aman stops her fall with help of Baazigar. But when she continues blabbering about Khan Baba, he raises her high in air and leaves there with her being asleep. 
Precap:
Roshni tries to give ideas for marriage but Parveen insults her again.