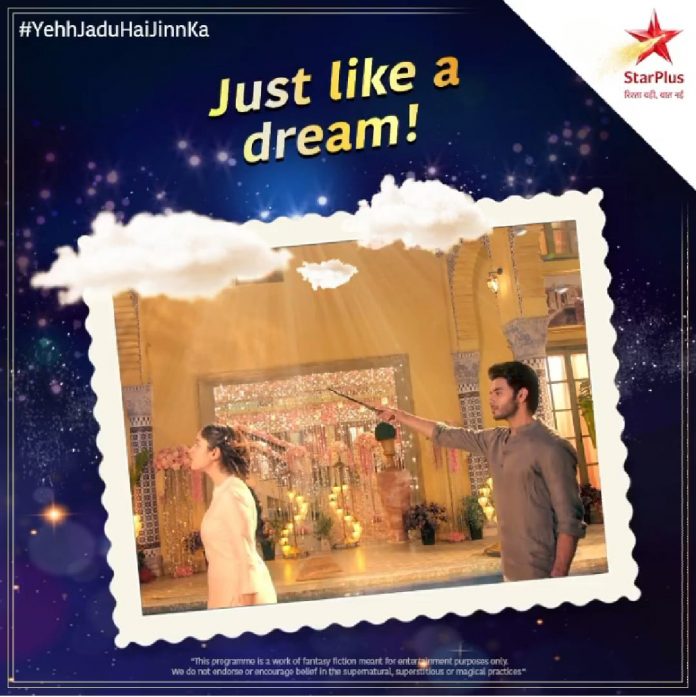 Roshni reaches to Saima's room. Saima and Sara shown her video saying that they are unable to contact Aftab as his phone is switch off. Meantime,  Rakh Jinn hid the Chal Kuan under a table. In room they get the message asking for 5 crores in exchange of video. Roshni wonders who can be the blackmailer. They were all unable to decide and Dadi calls them from door. Aman meets Rakh Jinn but she has veiled her face so he couldn't recognize. 
Dadi send Roshni to taste of caterers. Roshni is tasting food when she sees Aman waiting for someone with gifts in his hand. Roshni hide behind a pillar. Aman feels her presence and marches towards pillar. But he meets Chotu and ask for Dadi. Chotu said not to disturb him. Dadi comes to Roshni and ask her why is she hiding. Roshni makes an excuse. Aman sees Dadi and marches towards her. Seeing this Roshni makes an excuse to check on Saima and Sara and flee from spot before Aman meets Dadi. 
Sameer remembers how Salma Jaanisar told him that Roshni married Aman in exchange of blank cheque. Sameer decides to take revenge. 
Aman decides to tell Dadi about Roshni's absence from home. He goes to Saima's room searching her but shocked to see Roshni there. He sends Sara and Saima out of room and tells Dadi that he has thrown Roshni out of home and she cannot be here. Dadi scold him and ask what has she done. Aman says its so bad that he cannot describe. Dadi ask them not to spoil the wedding and tell them to come later. 
They walk together in hall and Chotu tells Aman that Roshni came from window. Aftab comes from Sameer and his wife. Sara asks Aftab about phone. He says that he has lost it, may be in gym. Sameer confirms in his mind that his phone is with him. Rakh Jinn takes Baazigar in a cage. 
Precap:
Roshni saves Chotu from Chal Kuan but get pulled instead. Aman sees her helplessly.