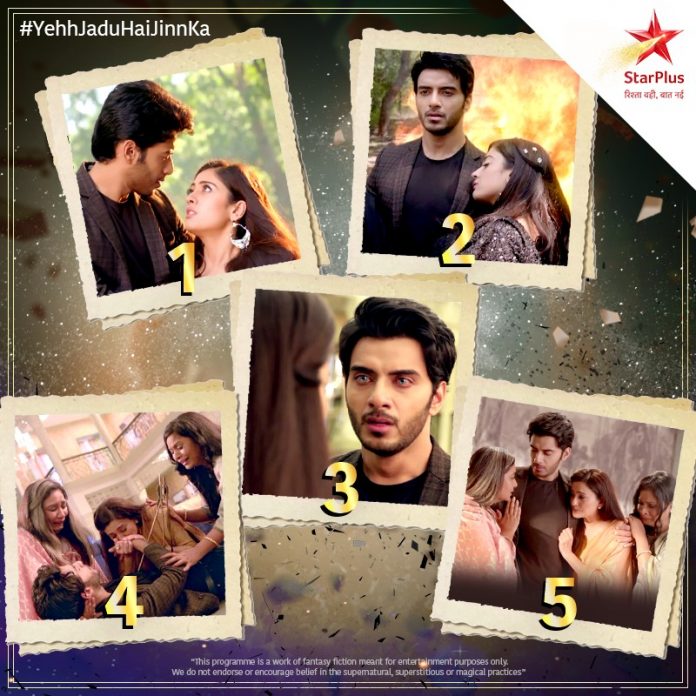 In today's episode, Aman enters in Roshni's house through Peetal Darwaza. He tries to bring back memories of Roshni through shifting the doors when she tries to escape but all in vain. Finally, Aman forcefully takes to Kala Jungle. 
Roshni runs away from him but he follows her. Suddenly, she turns into Aaina and tries to hurt Aman through her clips which turns into weapons. Aman dodge every one of them. She slips in Chal Kuan. Aman wanted that. Flashback shows Tabizi has said Aman to enter into Chal Kuan and in its deep water Roshni has to be Chal Aaina which will take her out of control of Sifriti Jinn. Aman jumps after her and search for her. He finds her and shows her Chal Aaina but Kabir comes near Chal Kuan and created a tornado inside it. This separates Aman from Roshni and throws Aman back on ground while Chal Kuan disappears with Roshni inside. 
Here Tabizi comes to dadi and informs her about what is going on. They both are worried about Kala Jungle. While Tabizi is returning, her hand touches Kabir and it sparked. Kabir sees golden bangles in her hand which creates spark although Tabizi is unaware of it. They both apologize to each other. Dadi says everything to Kabir. Kabir again goes to Kala Jungle and they both enters Chal Kuan again to save Roshni. Before Aman gets Roshni, Kabir brings Roshni back to surface. Roshni is unconscious. Aman thanks Kabir and says till now he was working alone. First time he feels like he is not alone. There is someone with him and hugs him. 
Kabir on his way back thinking of words said by Aman. 
Precap:
Aman and Kabir at Roshni's home. Aman with magic started breaking walls of Roshni's home in anticipation that Roshni and Salma will come out screaming but in vain. Roshni is sleeping.