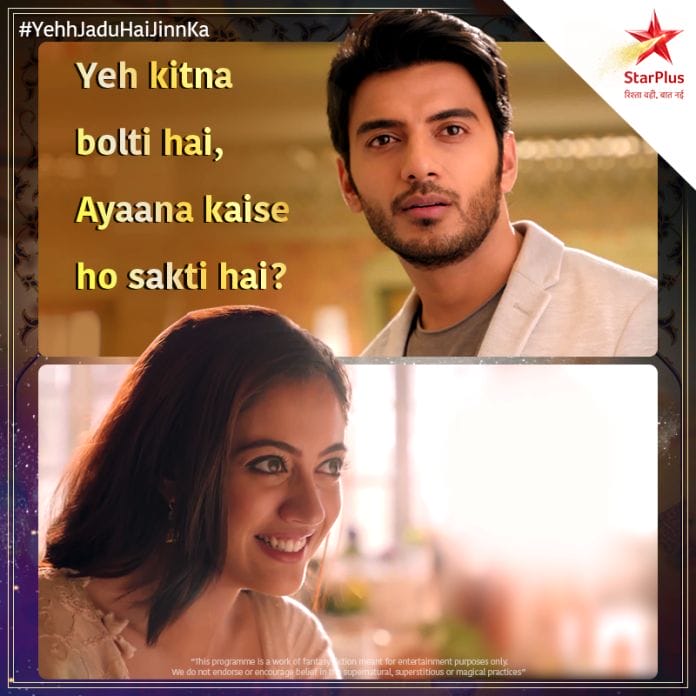 In today's episode Aman asks Roshni that why is she acting weird? Roshni counter questions that why Aman didn't tell her that she cannot be his wife ever? Why he didn't tell her that she is just for one month? 
Later, she become soft and tell him that she should have guessed that she is here for protection only. She is not hurt. Parveen comes and asks Aman to come as stylist is at home.  
Roshni cries when alone thinking about Aman's hurtful words. She tells Farah (her friend) about everything what Aman said to her. She added that from the time she has danced in MLA's party, her image has been ruined. She will never be a nice girl in Aman's mind. Farah asks why does she care? She reverts, she do care. Farah asks her is she in love with Aman? Roshni deny it but asks how will she knows whether she loves or not. Farah give her hints like there will be a music, hair will fly and everything will move in slow motion. Roshni disconnects and thinks that Aman eyes are cute so he will not see in his eyes.
Dadi talking to stylist that when he knows Aman wears black only in parties, why he h\bring so many other color shades. Aman thinks about Roshni's favourite color blue and demands that he will wear blue this time. Dadi asks for Roshni's attire but Parveen chose a nice saree for herself and looked very happy. Aman asked dadi to talk later. 
Roshni and Aman meets at a pool side and Aman asks why her eyes are puffed? She says she was sleeping. When he says why is she acting weird? She says, she was looking at his home. But her home was better with clouds and sparrows. Aman bring clouds and sparrows by magic. Roshni is very happy and imagines Aman who was acting like Shahrukh Khan. It was all her imagination.  She remembers Farah words and try to return. But she was about to fall in pool when Aman stops her from falling. She closes her eyes and asks him to pull up. Aman demands her to open eyes otherwise he won't. Roshni says she will not her eyes. Dadi calls Aman so he pulls her up by magic. She runs through corridor. 
Next morning, she gets up on bed while Aman is sleeping on couch. She remembers his cute eyes and screams after closing her eyes which wakes Aman who is astonished by her sudden behaviour. 
Ladies are working in kitchen deciding menu for night's party of Saima's in-laws. Roshni comes and says she will prepare Gazar Ka halwa. Parveen leaves kitchen angrily. Roshni goes behind her and calls her Ammi on which Parveen says, she is not her Ammi. Roshni says but she can say sorry to her for what all happened because of her. Parveen insults her again and leaves angrily. Roshni and Parveen are unaware that Aman is listening to their convo. Roshni started crying because of hurtful words and leaves. Aman stops her tear from falling on ground by magic and takes it to his palm.  He is confused about character of Roshni and in tears. 
Chotu comes and asks his Chachu why Parveen is so harsh with his Chachi. He said that she is very nice. Can't he do something with magic? Aman says magic doesn't work on hearts. 
Roshni comes near the book and Chal Kuan calls her. When she goes near book, it opens and Chal Kuan tries to pull her inside. Roshni struggles not to get pulled inside.
Precap:
Aman tries to pull Roshni outside.