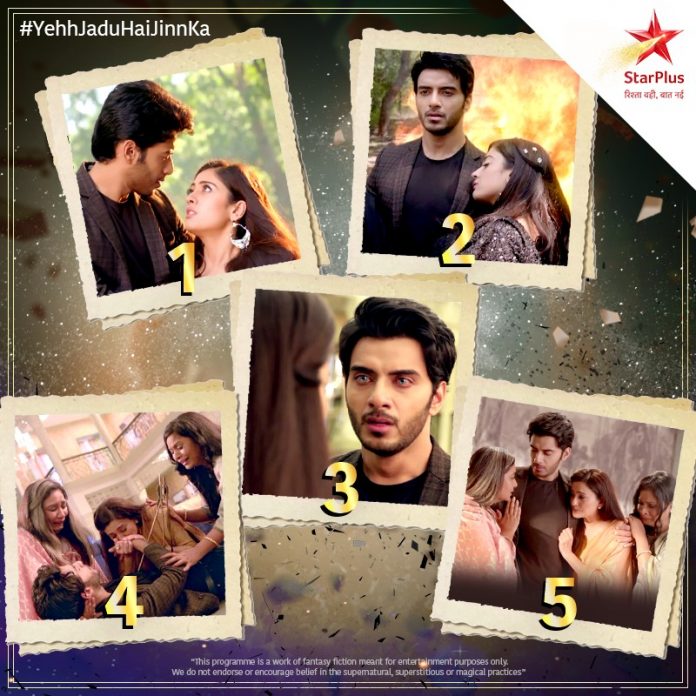 In today's episode viewers are going to watch how Chal Kuan is pulling Roshni inside the book and Aman struggling to pull her out. When fails Aman calls Baazigar and pulls Roshni out from magic. He destroys Chal Kuan water by burning. 
Later, with discussion with Tabizi, Dadi and Aman encircle home with a powder and dadi instructs Roshni not to come out of circle till night passes. Roshni agrees. Aman try to postpone Saima's ritual Jode Ki Rasm but Roshni says she will be fine. Aman gives a new phone to Roshni saying she has the same number sim. 
In the evening Saima's inlaws comes and along with them arrives Sameer. Aman and Roshni get shocked. They both thinks of all past events happened with Sameer. Saima's sister-in-law introduces him as her husband. Sameer reaches to Aman while everybody get busy with guests saying he messaged Roshni that he is back. Aman asks him not to take her name. Dadi calls him for dinner before Jode Ki Rasm. 
Rakh Jinn comes back with Chal Kuan painting but couldn't enter because of powdered circle. Inside, Aman comes to kitchen where Roshni is alone. He make the room sound proof and yells at her. He says, because she was going to marry with a person who is a husband and father, he can never trust her, He never wanted to believe his Ammi but her actions make him believe that. He asks for an answer but Roshni is silently crying thinking if she will say something her Ammi's respect will be affected. Aman accuses her of being a selfish gold digger. He talks to Dadi too and says they have to check Altaf's background once again. 
Later, Sameer wants to talk to Roshni but she revert back saying she never wants to talk with such men minded person. Aman sees them talking together but can't listen so doubt deepens in his mind. During gift exchange, he deny giving gifts with Roshni. Sara and Roshni does that together. 
Rakh Jinn gives painting to Adaa to take in the home of Aman. 
While returning Sameer provokes Aman against Roshni. Later, Roshni comes to bed room and tells Aman that he is misunderstanding her. Aman knows he is neither interested in her stories nor her. He doesn't know why is he affected by her actions but it should not be like this. Their deal is of one month and after that whatever she is doing with her is not his concern. But when she is st his home, she is daughter-in-law and not to do any work which is against the reputation of family. He instructs her to stay away from sameer till Saima's marriage. Roshni asks her after that. Aman says, its her wish. 
Precap:
Sameer hugs Roshni forcefully and Aman sees that.