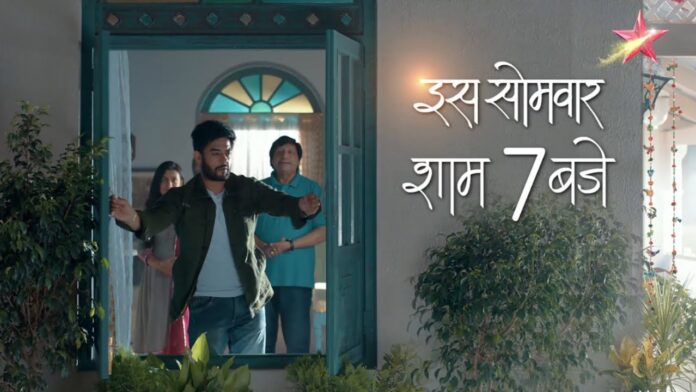 Zindagi Mere Ghar Aana Upcoming Story, Spoilers, Latest Gossip , Future Story, Latest News and Upcoming Twist, on Justhowbiz.net
The episode starts with Meera calling for her Aapa completes her praying. Meera says all her prayers are for her. She says that she's going to visit Amrita's house today and asks if her dress is fine. Aapa asks her to wear something nice as it's to be in law house. Meera hugs her and asks whether she's her birth mother. Aapa says if it is from heart then she is. They both hug and both starts getting ready for work. Dada is practicing his acting with Kabir's father. Kabir's father is about to go away but Dada stops him.
They both argue. Soni hears the noise and is about to check on them but Dadi stops her saying its usual. Amrita dresses Nimmo's wound and says she has hid the wound. Nimmo says that she's very good in hiding wounds. Amrita understands her words but changes the topic. She gives her necklace set to Nimmo and asks her to give it to Meera who's visiting them today. Nimmo asks if she's trying to take the place of Karan. Amrita says Karan's place was never vacant. She says that only the place shifted from her heart to her belly where she's carrying him.
Aapa is scolding her younger son and daughter when Meera comes there dressed up beautifully. Her siblings teases her but she asks Aapa how she's looking. Aapa says she looks beautiful. Krishnakant comes home busy on phone and shouting at someone in the other end. Aapa says he's the same.
Krishnakant suddenly notices Meera dressed up beautifully and asks Where's she going. She says she's attending Chaddha's daughter's marriage when Krishnakant says she shouldn't. Meera says Chaddha is very close neighbour of Amrita's family and why shouldn't she attend it. He asks why they are even attending as they should be angry at their neighbours after losing Karan. He says that he's not ready to lose anyone and so she don't have to attend in the covid situation. Meera tries convincing but he says with finality reasoning Sahana. Meera agrees and goes back to her room.
Soni asks Kabir to help her to take the heavy stone to Chaddha's marriage. He recalls avoiding Dolly's call. Soni pleads him to take it as she can't carry it. Sahana asks Krishnakant that why didn't he allow Meera to attend the wedding citing her reason. He says nothing just the situation is not good. Sahana asks if he had any issues with Angad's family but he says no. Sahana can understand that he's lying.
Kabir is bringing the stone and gives it to Soni. Dolly drags him in and asks about their plan. Kabir recalls not arriving the mentioned place and is about to say it when Dolly says before that that she too couldn't reach there due to relatives. Kabir signs in relief and scolds Dolly for making him wait. His friend comes in and asks why they both didn't arrive to the said location. Dolly understands Kabir cheated her and starts beating him for lying to him. Chaddha comes inside at the same time and asks Kabir what's he doing there. Kabir tries explaining but Dolly lies that he came to convince her to runaway.
Chaddha panics and drags him out. He tries explaining when Chaddha calls all the Sakujhas and complaints about Kabir. Kabir tries saying the truth but none listens and asks him leave. Soni passes by and she says that it was her who forced Kabir to come there. Everyone feels bad while Kabir asks Where's Meera. Angad says she is not attending the wedding. Meera sadly looks at the mirror and recalls packing Karan's things. Karan asks her to smile and she does. They gets romantic.
Nimmo is against him leaving to hospital for increased covid cases. They all wants him to leave the job. Amrita supports him and says he's doing his duty and asks them to not stop him. They agree and leave. Karan calls her best half and asks Where's her Bindi. She says she didn't wear it as its always him who makes her wear Bindi. He sticks it on mirror and makes her stand in front of it. He asks her to look at the mirror whenever she misses him.
Precap : Meera says Kabir that she called Angad's office but receptionist said he isn't working there. Amrita and her family visits Meera's house for fixing the marriage. He says it can't happen.
Click to read: