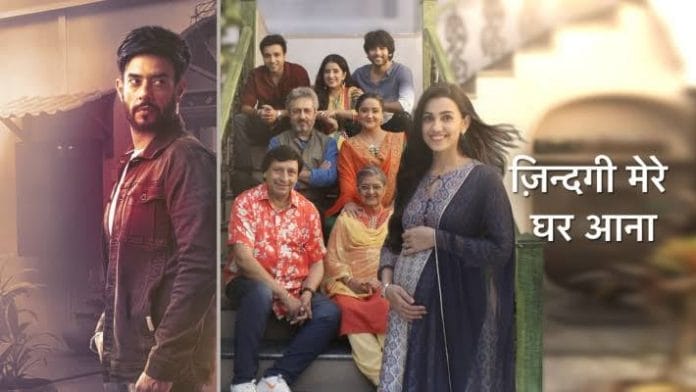 Zindagi Mere Ghar Aana Spoilers, Upcoming Story, Latest Gossip , Future Story, Latest News and Upcoming Twist on justshowbiz.net
Star plus newly launched family drama Zindagi Mere Ghar Aana has already started making its way to people's heart with its relatable and close to reality story and its sequences. The story is about Amrita a pregnant widow who lost her husband who was a covid warrior. Her dynamic with her family and the loss suffered by them due to their son's loss is explained beautifully in the show. Her new tenant Pritam will bring the lost colours in her life.
In the past week we have witnessed, Pritam's friends saved Pritam and Dadaji from goons. Meera got scolding from Shetty for her messed up presentation. Meera believed that Kabir messed up with her work and created problem for her. As a result Shetty asked Kabir to bring big clients for their company. Baljeet and Pammi complained about Pritam shirtless but Sakhujas stood up for him. Pritam came back home when Beeji asked him for ring light. Pritam said Amrita asked him not to buy it but Amrita lied that she never said so. Beeji got angry on Pritam and accused him for blaming innocent Amrita. Angad felt dejected as he couldn't find a right job but family cheered him. Guneet said about Amrita's father's wish to perform Amrita's delivery at their place in a good hospital but Amrita refused to go. Krishna Kant informed about Aapa's husband Hamid's death anniversary when Naveen showed least interest. Pritam fought with Amrita for lying about ring light. Later he fixed the door lock and while doing so Karan's photo fell down and broke. Amrita lashed out at Pritam for it and asked him to vacate the house. Sakhujas understood the reason for Amrita's anger and calmed her down. Dadaji apologized Pritam for Amrita's behaviour and explained the reason for her anger. Pritam felt bad. Krishna Kant made plans with family regarding Hamid's death anniversary. Later Krishna Kant and Meera met Angad in a café. Angad was about to leave when their common friend misunderstood that they came together and invited him for coffee. Angad left making excuse while Krishna Kant revealed that the alliance is broken. He acted generous in front of Meera.
Pritam fixed the photo frame and gifted Amrita. Amrita got elated seeing it. The whole family chanted their views about Pritam. They made sweet and sent it to him. Pritam rejected it first but later accepted. Amrita thanked Pritam for the sweet and Pritam thanked her back for the sweet. Amrita's baby shower date has been fixed. Sakhujas invited Pritam for morning tea and Santosh shared them the news about a girl's murder from daily. Pritam looked shocking at the news and Amrita noticed the change in his face. Amrita suspected Pritam to be the murderer when Nimmo called her for check up to hospital. Pritam's friends visited him regarding the murder news as she was the same girl who Pritam stayed with during her last night. They were shocked when they found Pritam's poster as wanted which the Police got from CCTV footage. Angad got the good news about job offer and got elated. Krishna Kant slapped Naveen for passing derogatory comment during Hamid's death anniversary. He got stroke and was rushed to the hospital. Amrita who came there with Guneet and Nimmo also saw them. Pritam got enquired by police. However he escaped using his ID card. Nimmo tried asking about Krishna Kant's health when the latter ignored her. Nimmo stopped herself from making a move. Meera thought that they are inhumane to not even enquire about health unaware of Krishna Kant's actions. Meera helped Amrita when a guy misbehaved with her. Kabir's boss was about to witness Dolly but she escaped. Amrita still suspected Pritam seeing his behaviour.
In the future episodes we will witness, Pritam will be cooking hearing songs played by Amrita. While he will be lost in the song, his wanted poster which has his picture will fly and fall on Amrita's feet. Amrita will be about to see the poster while Pritam will panic about getting caught.
Will Amrita see the poster? Is Pritam really a murderer?
All these questions will be answered in the upcoming episodes.
To know what will happen next in this show, Keep watching "Zindagi Mere Ghar Aana" Monday to Saturday at 7pm only on Star plus and anytime anywhere on Disney plus Hotstar.