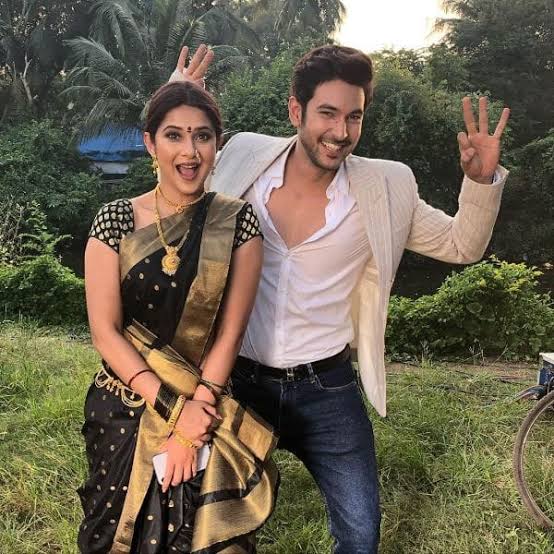 Fans have showered immense love on Sony TV's show Beyhadh. When the news of Beyhadh 2 came out, fans celebrated the moment of joy as their favourite Jennifer Winget will be back on TV screens. The negative shade character of Maya played by Jennifer has received many compliments. Beyhadh has brought a new concept into ITV where the lead characters are negative shade characters. People loved this new concept which brought the show back in it's sequel. While people loved Jennifer in negative character, this season fans also fell for Shivin Narang playing Rudra who is the co-lead playing the negative character. Then fans introduced this new couple MayRa into the ITV couple list. Today we bring all of you fans the reason why these two have amazing chemistry.
1. Negative attracts negative
Viewers knew Maya will be a shady character but when it is shown that Rudra is also one of them, the chemistry gets on fire as now they both are the devils who can conquer everything.
2. The change of relationship from friends to lovers
The way the makers made the storyline with Maya and Rudra first being aquintace who are professionally tied to each other. Slowly the makers build up the drama showing Rudra and Maya becoming friends. Till this point it was shown that Rudra loves someone else. Usually a love story starts happily, but as this is Beyhadh so the love story began with a death. Death of Rishi made Maya and Rudra come together. This out of the box start to their relationship made viewers stick to their favourite couple MayRa.
3. United Goals
Despite of all the bad deeds of Maya, Rudra loved her unconditionally. Apart from loving, Rudra started to support and help Maya in planning her next move. Both of their sole focus was to take the revenge successfully no matter who comes on their way. This idea of united goal between this couple, showed how strong their bonding is.
4. Talented Actors
Coming to the actors, both Jennifer and Shivin are amazing and talented actors. In ITV it is always said playing good is easy but playing bad takes a lot of effort. While we see Jennifer being perfectionist for the role, we also see the enhancement in Shivin's performance. If we see Shivin's earlier shows, and compare with Beyhadh, he has improved alot and has really worked on himself.
5. Friends off-screen
Both these actors are very down to earth and very humble. They like to interact with everyone on the set. They share a nice friendship off screen this is another reason for their romance being very realistic and their chemistry is amazing.
With the news in ITV world stating Beyhadh 2 is going off air soon, fans are sad and disheartened. Even we the members of Just Show Biz request Sony TV to reconsider their decision as the show has just begun and the fans want more of Jennifer and MayRa. Let us know your views on this. Keep buzzin!